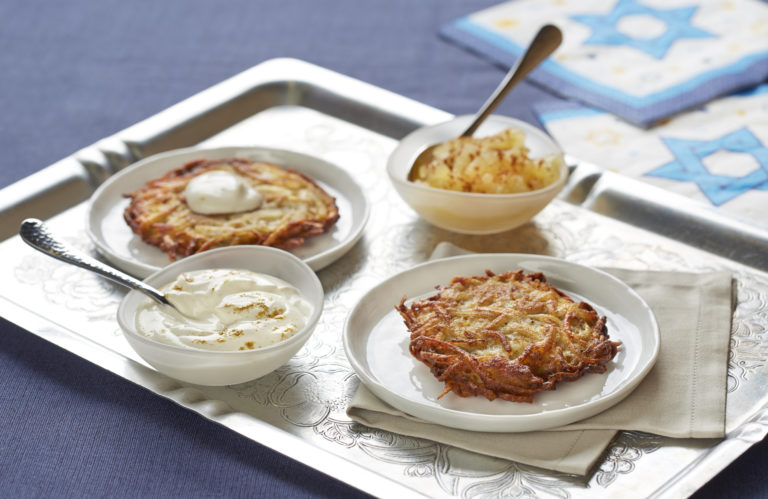 It's hard to top the excitement of making latkes for Hanukkah! The scent of the potatoes frying in oil, the crackle as they brown AND the crispy texture and savory flavor. For us, latke making is the Hanukkah holiday wrapped up in one delectable sensory experience.
We celebrate the holiday by cooking food in oil to remind us of the central miracle of Hanukkah, when the lamp oil lasted for eight days instead of burning out in only one. Make a lot of potato latkes! At our family gatherings there are never any leftovers. We even eat the crumbs.
When my daughter Lucy was 4 years old, she wanted to help me cook in our kitchen. And I was delighted to have her! Lucy's Special Sauce became my favorite companion for my chopped liver recipe. This version is also the perfect condiment to serve with Potato Pancakes.
Watch the video below to learn how. 
Our Potato Latke recipe and instructions are charmingly illustrated on our recipe towel. Fun Hanukkah kitchen accessory and hostess gift!
10-12 Latkes
Ingredients
LATKES:
3 russet potatoes, peeled & grated
2 eggs, lightly beaten (Vegan substitute: mix 2 tbsp ground flax meal with 6 tbsp water -  let sit for 5 minutes and stir)
1/2 onion, peeled & grated
1 carrot, peeled & grated
1/2 cup matzo meal or all purpose flour
1 tsp salt
pepper to taste
vegetable oil for frying
LUCY'S SPECIAL SAUCE:
1 16-oz container sour cream
1 tsp cumin
pinch of salt
Vegan Sauce Alternatives:
Vegan & Kosher Cashew Dipping Sauce
or
Tahini Sauce
Instructions
LATKES:
Peel potatoes and onion and process with grating blade in food processor or grate by hand with box grater. Set aside.
In large mixing bowl, beat eggs and add grated potato, onion and rest of ingredients. Add more matzo meal or flour if mixture seems too wet.
Form 3-4" patties with your hands squeezing out any excess moisture.
Heat 2-3 tbsp of oil on medium heat in sauté pan.
Place patties down carefully in hot oil and let cook for 3-4 minutes on one side until you can see a little brown peeking out from underneath.
Carefully flip latkes away from your face and cook for another 3-4 minutes.
Remove latkes from pan and place on paper towel lined plate to remove excess oil. Keep warm in oven on lowest setting until all latkes are cooked.
Serve with apple sauce and Lucy's Special Sauce garnished with chives or scallions. Or, try our Vegan alternatives: Vegan & Kosher Cashew Dipping Sauce or Tahini Sauce.
LUCY'S SPECIAL SAUCE:
Mix ingredients and serve on top or on the side of the latkes.
Notes
Make ahead tip:
You can freeze your latkes after you've cooked them. Place them in a single layer on a parchment lined pan and freeze them in a zip-top bag. When ready to reheat, take them directly from freezer and place on cookie sheet in 350 degree oven for 15-20 minutes. Turn them over once to prevent burning.