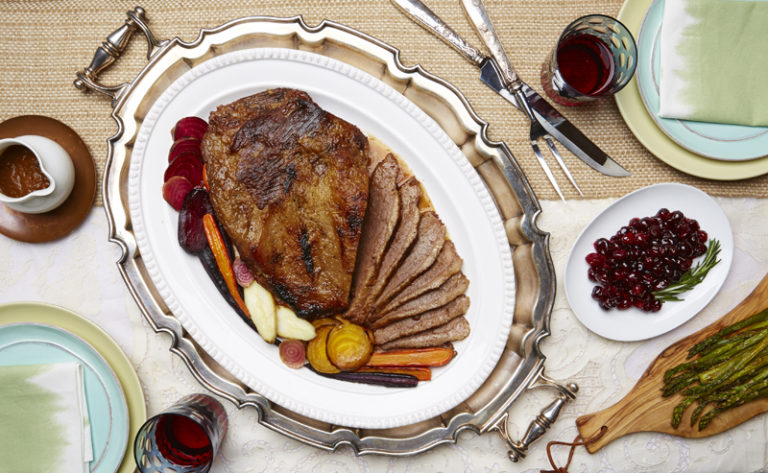 Chef Steven Sharad has made this Brisket recipe for our family for over 15 years. He was the Executive Chef at the University Club. Our family and friends have LOVED his recipe. I find it beautiful that he learned this recipe from his grandmother. It is truly made with love.
Serves 8-10
Ingredients
1 beef brisket, 6-8 lbs
2 tbsp vegetable oil
1 pouch Kosher Lipton Onion Soup Mix
2 small cans whole berry cranberry sauce
3 cups water
½ cup red wine (not sweet)
3 large onions, rough chopped
4 carrots, peeled and rough chopped
1 head celery, rough chopped
salt and pepper to taste
Instructions
Preheat oven to 350 degrees.
Mix the water, onion soup mix and whole berry cranberry sauce together and set aside.
Salt and pepper the brisket and sear in a large roasting pan in a little bit of vegetable oil until golden brown on both sides. Remove from pan and set aside.
Add onions, celery and carrots to the same pan and sauté at a medium-low heat until the vegetables soften (about 10 minutes).
Add the wine and simmer for another 3 to 4 minutes.
Nestle the brisket back in the pan with the vegetables and add the onion soup mix, water & cranberry mixture to cover the brisket.
Cover roasting pan tightly with aluminum foil and braise brisket in a 350 degree oven for about 3 hours. Check to see if the meat is tender by placing a fork in the thickest part of the meat and the fork will come out easy and the meat is tender.
Remove the meat from the pan and reduce the liquid by a third. Puree the liquid and vegetables all together and check for seasoning. Add additional salt and pepper if needed.
Slice the meat against the grain, add the sauce on top and serve with your favorite roasted vegetables.