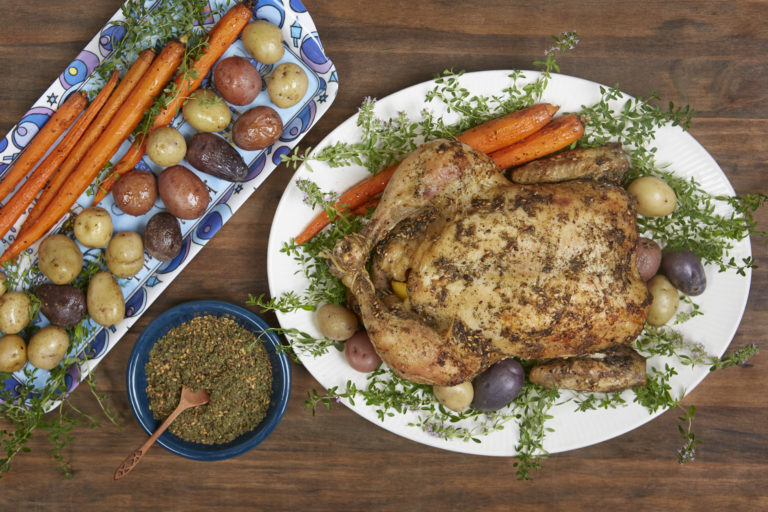 A Jewish holiday table isn't truly complete without a beautiful roast chicken dish. We wanted a recipe for our Hanukkah chicken that would be meaningful for the holiday, so we looked to the Torah for inspiration. We came up with a fast and fun recipe that uses the traditional Middle Eastern spices of Za'atar and Hyssop, two spices with just enough biblical reference to make it special.
Za'atar is a popular and distinctive Israeli spice mix of dried thyme, toasted sesame seeds, ground sumac and salt. Hyssop is the term for wild thyme and was referenced in the Torah in the Story of Exodus (Exodus:12:22-23, JPS Page 137). Combining the two together creates a chicken dish that is crisp on the outside and moist on the inside, and perfumes your home with a distinctly Israeli scent.
Ingredients
One 4-1/2 to 5 lb chicken
1/2 cup unsalted butter (1 stick), room temperature (to make kosher, use olive oil instead)
4 tbsp za'atar (blend of dried spices like thyme and oregano, sumac, sesame seeds and salt)
1/2 lemon, sliced
1/2 small onion, peeled & sliced
salt to taste (only use if there is no salt in your za'atar spice blend)
Instructions
Rinse and pat dry chicken.
Combine za'atar with butter (or olive oil if you want to make dish kosher) and rub all over the chicken. Season with salt only if there is no salt in your za'atar spice blend.
Stuff the chicken with lemon and onion slices.
Place chicken in a small roasting pan or cast iron pan and bake at 375 degrees for 1 hour or until internal temperature reaches 160 degrees.
Remove from oven and let rest for 10 minutes before slicing to retain juices.
Slice and serve with roasted vegetables.