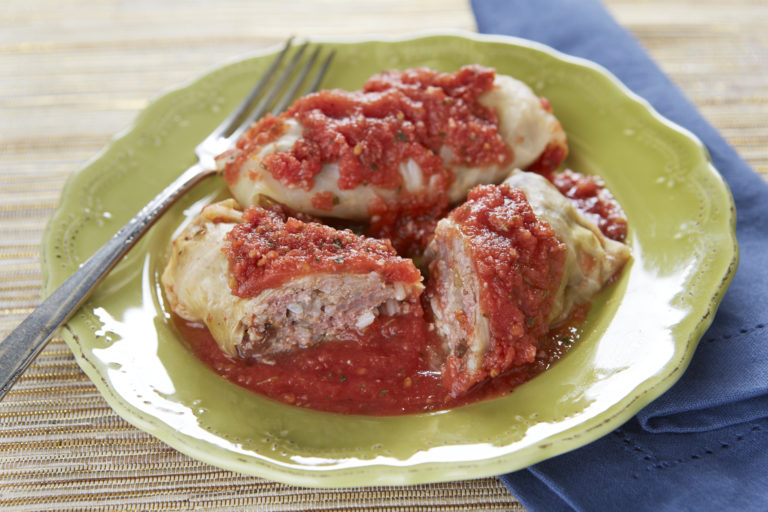 A crowd-pleasing sweet, sour and savory marriage of ground meat, hearty cabbage, raisins and tomato. Stuffed Cabbage is perfect for Succot to celebrate the abundant holiday celebration and highlight cabbage as a fall harvest vegetable.
We love to make these bundles with the help of the kids. They love to be put in charge of rolling up each cabbage leaf so that the meat mixture stays tucked safely inside. This is a great dish to make a day or two ahead so you can enjoy more time with your family.
Serves 12-20 depending on size of cabbage rolls
Ingredients
FOR FILLING:
2 cloves garlic, minced
1 onion, finely chopped
1 lb ground beef
1 egg
1/2 cup uncooked rice
1/2 cup raisins
1 tbsp cinnamon
2 tbsp fresh thyme, stems removed, rough chopped
salt and pepper to taste
FOR TOMATO SAUCE:
1/4 cup olive oil
2 cans crushed tomatoes (28-oz cans)
1/2 onion, finely chopped
2 cloves garlic, minced
large handful of fresh thyme, stems removed, rough chopped
salt and pepper to taste
Instructions
PREPARE THE CABBAGE LEAVES:
Boil a large pot of water big enough to lower a large cabbage into.
Remove the core from the cabbage.
Carefully place the cabbage into the boiling water and boil for 10-15 minutes. Once the cabbage leaves are tender and you can easily peel the outside layer away from the cabbage head, it is ready.
Carefully remove the cabbage head from the boiling water and sit in a colander in your sink. Do not discard the boiling water yet. You may need it to cook some of the lower leaves of cabbage.
Remove the cabbage layers and let cool on a cutting board or countertop surface.
If inner leaves are still a little tough, put the rest of the cabbage head back into the boiling water.
MAKE THE TOMATO SAUCE:
In a large heavy bottomed pan, heat the olive oil on medium heat.
Add onion and turn heat to low. Cook onions until they are translucent.
Add garlic. Sauté for a minute or so. Don't let the garlic burn.
Add crushed tomatoes and let simmer for a couple minutes.
Add thyme, salt and pepper and simmer for another 5 minutes or so.
Remove from heat and let cool slightly.
MAKE THE FILLING:
Combine all filling ingredients in a large bowl and set aside.
If making ahead, cover and refrigerate.
ASSEMBLE THE CABBAGE ROLLS:
First preheat the oven to 350 degrees so it will be ready when your rolls are complete.
Lay a cabbage leaf down on a flat surface with core end facing you.
Spoon about 3 tbsp into your leave in a log shape. You may need a little less or more depending on the size of your cabbage leaf.
Fold the core side of the cabbage over the filling then fold in the sides over the filling.
Roll the cabbage leaf away from you into a roll.
Place in a large lasagna pan.
Keep making your cabbage rolls and lining them up in your lasagna pan until you've used up all your filing. You should have 12-18 rolls depending on size of cabbage leaves, how much filling you use and how tightly you roll your cabbage.
Pour your tomato sauce over the rolls.
Cover your pan tightly with tin foil.
Bake at 350 degrees for 1 hour and 30 minutes or until the rice is cooked to your liking.