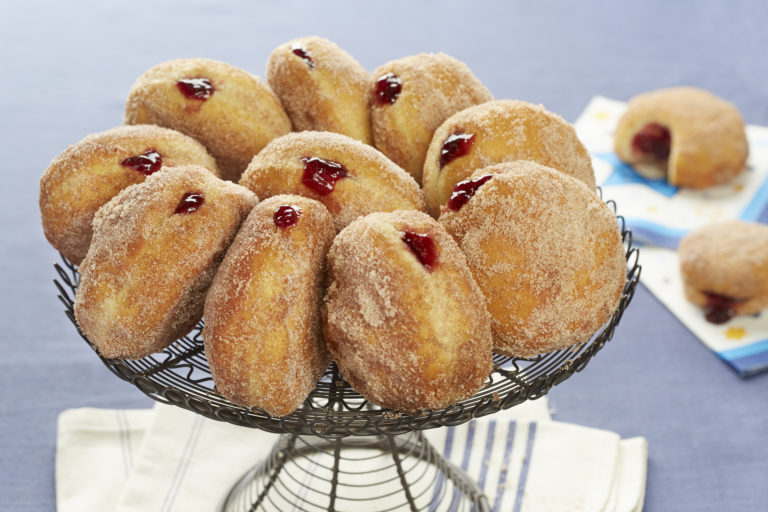 Every culinary culture has a doughy pastry fried in oil, a local version of the doughnut. Jews are no exception. Wherever Jews have lived throughout history, they've made a tradition of creating a special Hanukkah version of fried dough to celebrate the Miracle of Oil.
Ashkenazi Jews emigrating from Germany brought the Sufganiyot tradition to Israel in the 1930s. Who can resist these fluffy pillows of dough with your favorite jam filling inside. These always fly off the table. Make sure to get one before they're gone.
Makes 12-14
Ingredients
3 cups all-purpose flour + more for dusting
1 tsp salt
1 packet active dry yeast (approximately 2-1/4 tsp)
3/4 cup lukewarm milk
2 tbsp sugar + 2-3 more cups for coating the donuts
2 large eggs, lightly beaten
2 tbsp unsalted butter, melted & cooled
1 jar preserves/jelly of choice
vegetable oil for frying
cinnamon (optional for coating doughnuts)
Equipment: candy thermometer that you can clamp to the inside of your pot
Instructions
In a small bowl, combine 2 tbsp of warm milk (between 100-110 degrees) and 2 tbsp of sugar. Add the dry active yeast and let sit until foamy, about 5 minutes.
In the bowl of a mixer, combine 3 cups flour and 1 tsp salt. Add yeast mix to the flour. Add the eggs and butter to the flour mixture. Mix the ingredients until they come together into a crumbly mix.
Mix in the rest of the milk, 1 tbsp at a time until the dough sticks together in a ball.
Turn the dough out onto a lightly floured surface and knead until the dough is smooth. (You can do this in a mixer fitted with a dough hook as well.) Form the dough into a ball and transfer it to a lightly oiled bowl, cover with a kitchen towel, and let rise until doubled in size, about 2 hours.
Punch down the risen dough. Turn out onto a lightly floured surface. With a lightly floured rolling pin, gradually roll out the dough to about ½" thick. When rolling dough, let it rest periodically to relax the dough and make it easier to roll out.
Cut out 3-4" rounds with a lightly floured biscuit cutter or drinking glass. Re-roll the scraps to make more rounds.
Place the doughnuts on lightly floured baking sheets that are lined with parchment paper, spacing them apart, and cover lightly with a dry towel. Let rise in a warm spot until doubled in size, about 30 minutes.
Heat a deep, heavy pot filled 3" high with vegetable oil to 350º.
Transfer the risen doughnuts to the pot and fry the doughnuts, a few at a time, until golden and puffed. About 1-2 minutes each side.
Prepare a plate with 2-3 cups of mixed sugar and cinnamon.
Lift the doughnuts from the oil using a slotted spoon and blot briefly on a paper towel-lined plate. While donuts are still hot, sprinkle with cinnamon-sugar (tongs are a good tool for holding the donuts). Set donuts aside.
Fill a pastry bag (1/4" round tip), squeeze bottle or zip-top bag with the corner cut off with jelly preserves. Insert the tip into the end of each doughnut and pipe approximately 1-2 tbsp of preserves into them and serve.