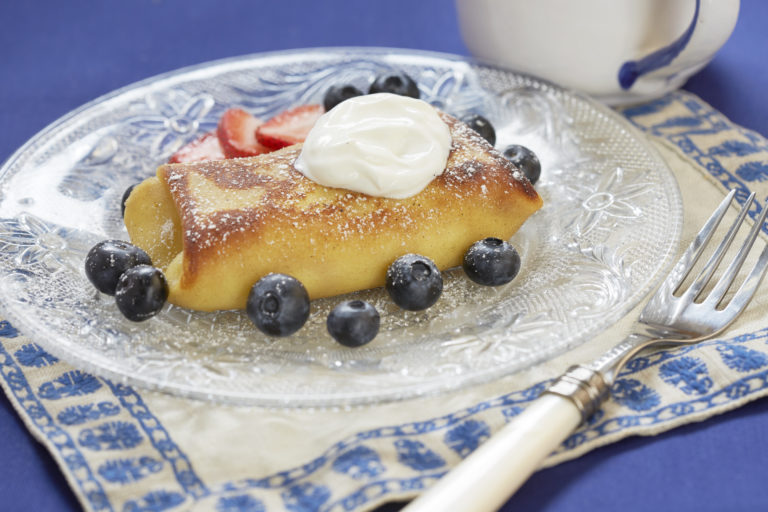 If there is one perfect breakfast, brunch, lunch, dinner or snack dish in the repertoire of Jewish cookery, we vote for the Cheese Blintz. Tidy packages of golden pancakes stuffed with a sweet mild cheese and pan-fried to perfection. Hot, warm, or cold, it's a hard dish to resist. My Great Aunts, Shang and Emma, used to make me these delicious blintzes as a kid.
Cheese Blintzes are classics on the Hanukkah holiday table (referencing the Hanukkah holiday's traditional spotlight on foods with cheese, sweetness and oil), but we depend on this recipe for our Yom Kippur Break Fast as well. It's also a great dairy option for Shavuot and a sure favorite for a Bar/Bat Mitzvah kiddush luncheon.
Makes 8-10 Blintzes
Ingredients
BATTER:
3 large eggs
2 egg yolks
1/2 cup milk
1 tbsp sugar
pinch of salt
3/4 cup canola oil
1 cup flour
1/4 - 1/2 cup water (as needed)
non-stick cooking spray for pan
butter for browning (have about 6 tbsp on hand)
FILLING:
12 oz cream cheese
2 cups ricotta
zest of 1 lemon
1 tbsp lemon juice
1 tsp vanilla
1/2 cup sugar
pinch of salt
FOR SERVING:
Instructions
MAKE CREPE BATTER:
Whisk together all ingredients except flour.
Sift in flour gradually and blend well.
Add water as needed to thin the batter for easy pouring.
Refrigerate batter for 30 minutes.
MAKE CREPES:
Heat a non-stick 8" frying pan over medium heat.
Coat pan with non-stick cooking spray.
Pour approximately 1/4 cup batter into the pan and swirl the batter around quickly to form a thin crepe.
Cook crepes 1 at a time, 1 side only. This will take about 45 seconds.
Slide crepe out of the pan and repeat until you use all the batter.
MAKE FILLING:
Combine filling ingredients until smooth in a food processor, blender or by hand.
It not making the blintzes right away, refrigerate the filling.
ADD FILLING & COOK BLINTZES:
For assembly, portion 1/4 - 1/2 cup of filling in the middle of the blintz.
Fold top down over filling, fold in the two sides, then fold over to close in the filling
Heat 1 tbsp butter in the pan. Add 2 blintzes to the pan at a time.
Flip after 1-2 minutes until lightly browned.
Serve immediately with your choice of sour cream, apple sauce, berries & powdered sugar.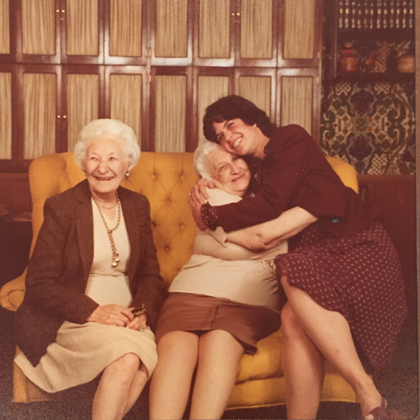 Left to right: Andy's Great Aunts Emma and Shang, and his mother, Myra Outwater.
Notes
Blintzes freeze well. Just don't cook them. Freeze them stuffed and rolled. Place flat on a cookie sheet sprayed with non-stick cooking spray. Once frozen, remove and place in a zip-top bag. When you want to prepare them, defrost completely and brown them in a pan with butter.