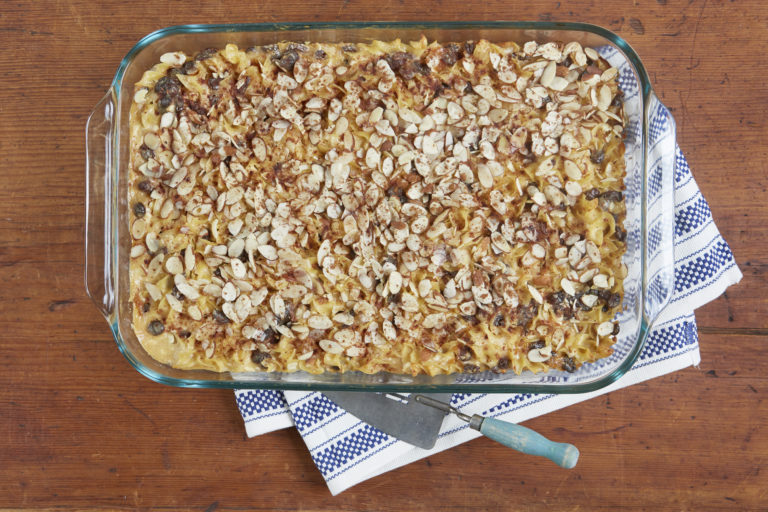 In some families it's Noodle Pudding. In others it's Kugel. But in all families it is delicious.
Our kugel recipe is a classic with a twist that we think makes the dish extra special – apricot jam. Mildly decadent, easy-to-make, a creamy baked casserole of eggs, butter, noodles, luscious dairy, golden raisins and a good amount of sugar. Noodle pudding is the perfect make-ahead dish for Hanukkah party. It really does taste better with the full fat version, but it doesn't suffer when made with "light" dairy products.
Serves 12-14
Ingredients
12-oz bag wide egg noodles
1 container cottage cheese (16 oz)
1 container sour cream (16 oz)
8 oz cream cheese, room temperature
4 eggs, lightly beaten
3/4 cup sugar
1 tsp vanilla
pinch of salt
1 tbsp cinnamon + extra for dusting on top
2 cup raisins, golden or dark
1 cup slivered almonds
1 12-oz jar apricot jam
2 tbsp butter + extra for buttering the pan
Instructions
Preheat oven to 350º.
Coat 9" x 13" (3-quart) baking dish with butter.
Cook noodles according to package directions. Strain and set aside.
Break eggs into a large bowl and whisk.
Add dairy products to the bowl and mix.
Gently fold in cooked noodles.
Mix in vanilla, sugar and cinnamon
Fold in raisins.
Pour mixture into baking dish.
In a separate pan, heat apricot jam for 1 minute until the jam melts then pour jam over noodle mixture and spread with a pastry brush.
Sprinkle slivered almonds on top, dust with cinnamon, dot with small pieces of butter, cover with tin foil and bake for 50 minutes. Uncover and bake for an additional 10 minutes so the top is slightly crunchy.
Let cool slightly as it will be easier to serve.