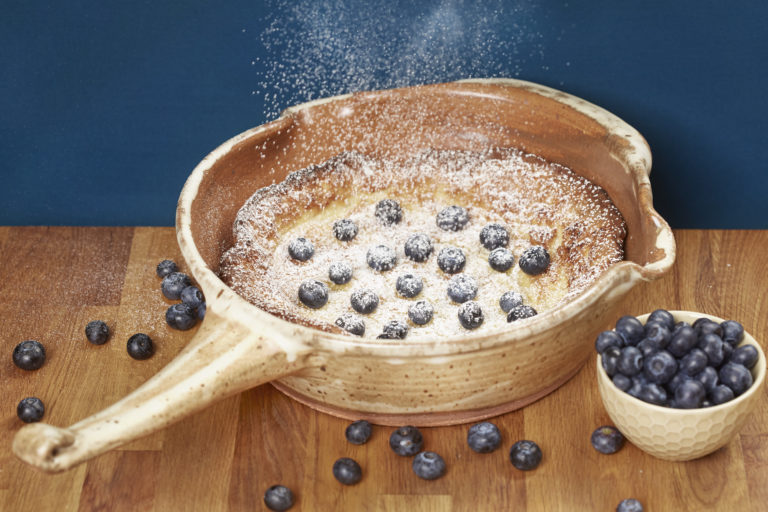 I've always loved my Mom's puffed pancake. (My kids call her Nana.) My mom truly inspired my love of cooking. This recipe was always a family favorite.  It is sweet and tangy from the lemon and sugar combination. We loved eating it hot from the oven and also room temperature. Either way, it was always a holiday treat!
Have Nana's Puff Pancake recipe towel on hand for Hanukkah or anytime! Makes a great gift!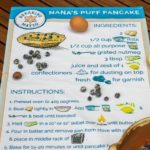 Nana's Puff Pancake Recipe Towel
Serves 4-6
Ingredients
2 eggs
1/2 cup milk
1/2 cup all purpose flour
1/2 tsp grated nutmeg
3 tbsp butter
juice and zest of 1 lemon
confectioners sugar for dusting on top
fresh blueberries for garnish
Instructions
Preheat oven to 425 degrees.
Beat eggs lightly in bowl. Add milk, flour, lemon juice & zest and nutmeg and beat until blended.
Melt butter in a 10" or 12" skillet over medium heat until butter froths.
Pour in batter and remove pan from stove with pot holder and place in middle rack of oven.
Bake for 15-20 minutes or until pancake has puffed up and browned.
Remove from oven and let cool slightly so when you sift confectioners sugar on top it doesn't melt.
Slice into wedges and garnish with blueberries and more confectioners sugar.