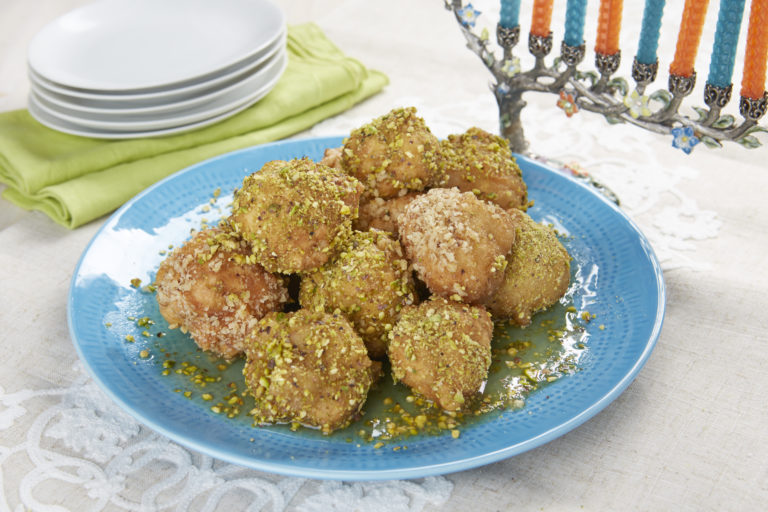 Given the connection between the Jews and the Greeks in the Hanukkah story, in this recipe we celebrate the centuries-long culinary traditions of Greek Jews.
Loukoumades is a popular Greek fried-dough pastry. Greek Jews often call this classic Greek pastry Zvingous or Zvingoi and make them for Hanukkah. In Italy, the classic fried dough dish is Sfingi di San Giuseppe. In Spain and Mexico it is a Bimuelo.
Whatever they are called, and wherever they are made, these donuts are delightful treats made from deep fried dough coated with honey syrup. They differ from Sufaganiyot in that the dough rises only once. The dough is a bit sticky but they are quicker to make. And you can infuse the honey syrup with your favorite flavorings. We used orange juice as well as rose water. Both delicious!
Ingredients
DONUTS:
1 packet active dry yeast (approximately 2-1/4 tsp)
3/4 cup water + 2 tbsp warm water to activate yeast
2-1/2 cups all purpose flour
2 tsp sugar
1 egg, lightly beaten
pinch of salt
vegetable oil for frying
HONEY SYRUP:
1 cup honey
1 cup water
1 tbsp rose water or orange juice
TOPPINGS:
chopped pistachios
chopped walnuts
Instructions
MAKE THE HONEY SYRUP:
Heat the honey and water until it is well combined.
Take off heat and stir in the rose water or orange juice.
Set aside.
MAKE THE DOUGH:
Pour contents of yeast packet into a bowl and mix in 2 tbsp warm water.
Let yeast activate for about 10 minutes. Small bubbles should form.
In a large bowl, combine the flour, sugar, egg and salt with a wooden spoon or whisk.
Add the activated yeast.
Slowly pour in the 3/4 cup water until a sticky dough forms.
Cover the bowl with plastic wrap and let rise in a warm place for an hour.
FRYING THE DONUTS:
Heat a deep, heavy pot filled 3" high with vegetable oil to 350º
Wet your hands and dip a large spoon in oil and spoon out some dough into your hands
It's tricky but try to form the dough into a round then carefully lower into the oil. If they come out in more of a fritter shape, don't worry. They will still taste delicious. You can also lightly oil a medium-sized cookie scoop (1-3/4" diameter) and gently release the dough from the scoop into the oil
Move the dough around in the oil with a slotted spoon until the donuts are lightly brown on all sides
Carefully remove from oil with slotted spoon and immediately lower into your Honey Syrup. Coat generously and place on serving platter or roll them in your favorite nuts. We love pistachios and walnuts
Eat immediately. They taste best warm
Notes
Makes approximately 16