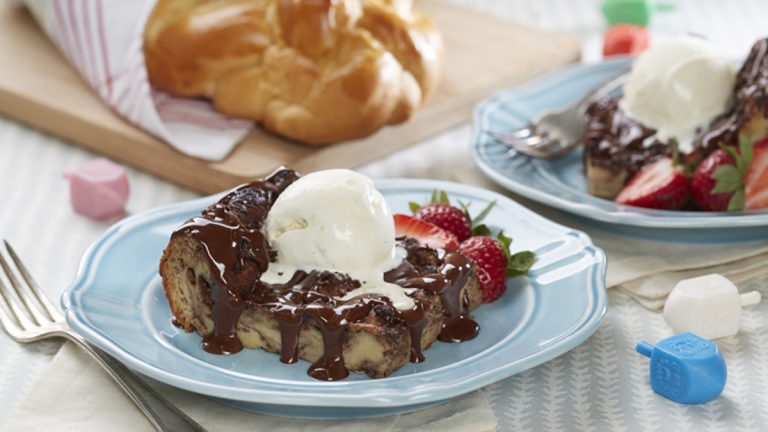 Challah is the delicious braided bread we eat on Shabbat each week, and since each year Hanukkah includes at least one Shabbat dinner, we love to make this bread pudding with our leftover challah. This is also a great dessert to include on your Bar/Bat Mitzvah menu! Because, who can resist chocolate!
Serves 12-14
Ingredients
8 cups challah bread (crust removed and torn into bite-size pieces) - we used fresh bread but day-old bread is fine as well
4 cups milk
4 eggs
4 tbsp unsalted butter, melted
1 tbsp vanilla
1/2 cup sugar
1 tbsp cinnamon
1 tsp allspice
pinch salt
3/4 cup chocolate chips (bittersweet or milk chocolate) + extra melted chocolate for drizzling on top of plated slices
1/4 cup cocoa powder
1/2 cup chopped walnuts (optional)
EQUIPMENT:
9" x 13" (3-quart) baking dish
Instructions
Beat eggs lightly in a bowl and set aside.
Heat milk to scalding.
Slowly pour milk into eggs whisking constantly so you don't curdle the eggs.
Stir in melted butter, sugar, cocoa powder, vanilla and salt.
Spread bread pieces evenly on bottom of dish.
Sprinkle in chocolate chips.
Pour milk & egg mixture over the bread and chocolate.
Bake for 40 minutes at 350 .
Note: the bread pudding will rise really high in the baking dish. Don't worry. it will settle once you take it out of the oven and let it cool.
Serve with a drizzle of melted chocolate, scoop of vanilla ice cream or powdered sugar and some fresh fruit.