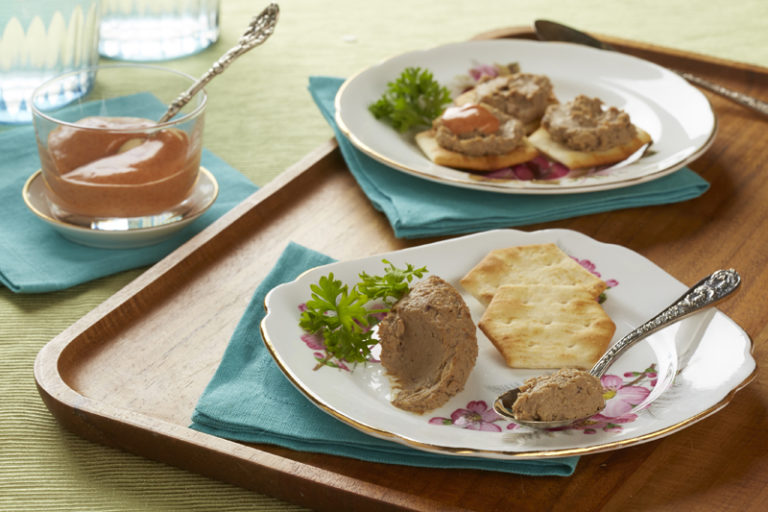 We love Chopped Liver. So earthy and rich, a single bite is a reminder of all the flavors of classic Jewish cooking. We developed this recipe because it is "fast and fun" to make and is so tasty. Our friends look forward to it each year.
My favorite part of the recipe is Lucy's Special Sauce. Lucy began to make this when she was 5 years old. She was so cute and proud, and I am still thrilled when she joins me to make this dish.
1 quart
Ingredients
CHOPPED CHICKEN LIVER
1 lb chicken livers, patted dry
8 garlic cloves, peeled
1 tbsp olive oil
2 large onions, chopped
3 tbsp schmaltz
4 hard boiled eggs
1 tsp salt
¼ tsp black pepper
LUCY'S SPECIAL SAUCE
1/2 cup of ketchup
1 tbsp paprika
1/3 cup mayonnaise
Instructions
CHOPPED CHICKEN LIVER
Preheat oven to 350 degrees.
Toss livers and garlic with olive oil and bake them on a parchment lined cookie sheet in a 350 degree oven for 20 minutes.
While the livers and garlic are baking, sauté onions in schmaltz in a large skillet until golden brown.
Add the cooked livers and garlic to the sauté pan. Sauté until liver is thoroughly cooked through (3-4 minutes).
Place cooked liver, garlic and onions in a food processor. Add hard boiled eggs, salt and pepper. Puree mixture until smooth.
Serve chilled with Lucy's Special Sauce.
LUCY'S SPECIAL SAUCE
Mix ketchup, paprika and mayonnaise in a bowl and serve with Chopped Chicken Liver and matzo crackers.