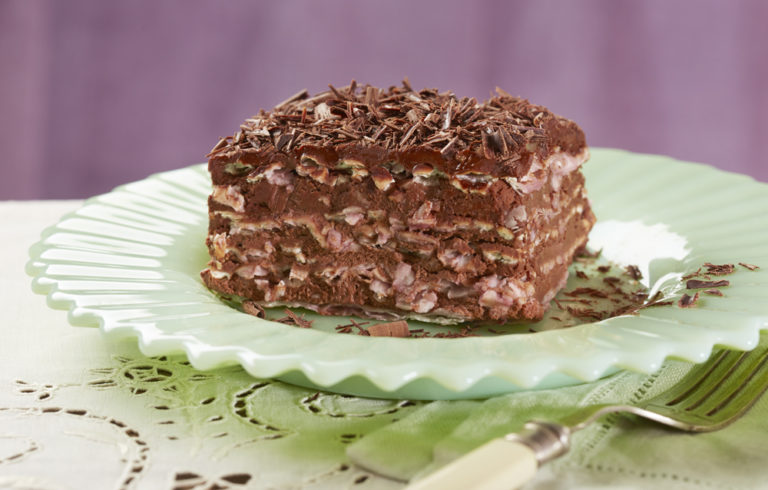 As a kid I wondered, why isn't there a really delicious chocolate cake for Passover? My mom came up with this recipe for Kosher Passover (Pesadicka) Chocolate Matzo Mousse Cake. It was a winner, and is the star dessert of our Passover meal. Sometimes we wonder why we only make it at Passover.
Soaking the matzo in Manischewitz wine gives it a texture like tiramisu. My mom (of blessed memory) made this recipe with my kids for years. We all fight over the privilege of licking the spatula for the final bits of chocolate!
Serves 8-10
Ingredients
3 cups chilled heavy cream
5 large egg yolks
4 tbsp sugar
1½ tsp vanilla
12 oz high quality bittersweet chocolate, chopped plus extra for shaving on top
3 cups sweet red Kosher wine, such as Manischewitz
pinch of salt
8-10 squares of matzo
Instructions
PREP YOUR PAN:
Spray an 8"x8" baking pan with non-stick spray then layer in 2 sheets of parchment paper cut to fit in the pan with enough paper hanging over all 4 sides so you can easily lift the mousse cake out once it has set.
MAKE YOUR MOUSSE:
Heat 1 cup cream in a 1-quart heavy saucepan until hot. Whisk together yolks, sugar and a pinch of salt in a metal bowl until combined well, then add hot cream to egg yolk mixture in a slow stream, whisking constantly so eggs don't curdle.
Transfer mixture to saucepan and cook over moderately low heat, stirring constantly, until the custard thickens. Pour custard through a fine strainer into a bowl and stir in vanilla.
Melt chocolate in a double boiler or a metal bowl set over a pan of simmering water (or in a glass bowl in a microwave at 50 percent power 3 to 5 minutes), stirring frequently.
Whisk custard into chocolate until smooth, then cool in refrigerator for at least 30 minutes, covered with plastic wrap.
Beat remaining 2 cups of heavy cream in a bowl with a hand mixer or stand mixer until it just holds stiff peaks. Whisk one fourth of whipped cream into chocolate custard to lighten, then fold in the rest gently but thoroughly.
CREATE YOUR LAYERS:
Use a combination of whole matzo pieces and smaller broken pieces so you can form 5 layers in your 8x8 pan.
Pour Manischewitz in a separate 9x13 glass baking dish until there's about ½" of wine in the dish.
Soak just enough matzo for your first layer for about 2 minutes or until the wine soaks into the matzo. Create your first layer in the bottom of the pan.
Add in a thin layer of chocolate mousse over the matzo layer and spread evenly with an offset spatula or the bottom of a spoon. Complete the same process for your next 4 layers.
Shave chocolate over the top of the cake and refrigerate for a minimum of 4 hours.
To serve, lift the cake out of the pan and cut into squares.
Notes
To vary the flavor, you can replace the vanilla with 2½ tsp instant espresso powder (dissolve it in the hot cream), 3½ tbsp Grand Marnier or 2½ tbsp Cognac (either one whisked into strained custard).