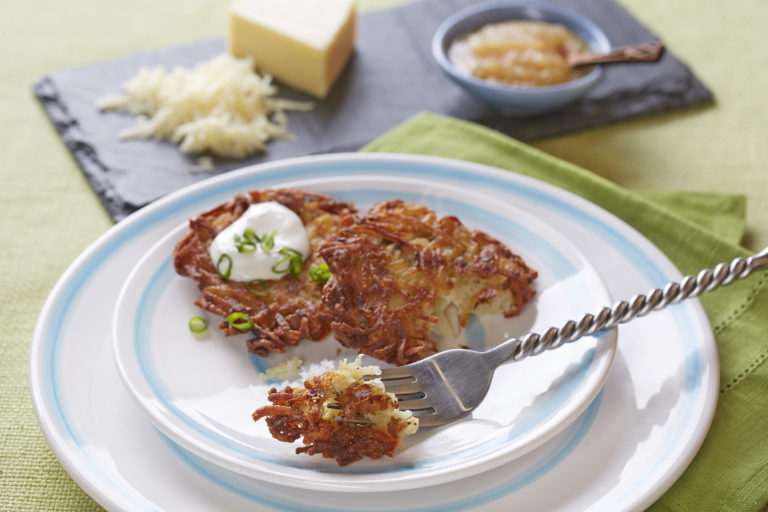 Many families and communities have their own latke variations.
I like to make Potato and Cheese Latkes to celebrate the heroic story of Judith whose bravery and ingenuity saved the Jews. Judith served salty cheese and a lot of wine to the General Holofernes in order to get him drunk (Book of Judith 10:5).
To commemorate Judith, we serve a lot of cheese dishes during Hanukkah. This latke variety is just plain delicious and the horseradish sour cream is the perfect companion.
Makes 10-12 Latkes
Ingredients
LATKES:
3 russet potatoes, peeled & grated
1/2 onion, peeled & grated
2 eggs (Vegan substitute: mix 2 tbsp ground flax meal with 6 tbsp water -  let sit for 5 minutes and stir)
1/2 cup matzo meal or all purpose flour
1 cup grated cheddar cheese (Vegan substitute: 1 cup of your favorite vegan cheese or 1/2 cup nutritional yeast)
1 tsp salt
pepper to taste
apple sauce for garnish
vegetable oil for frying
HORSERADISH SOUR CREAM
Instructions
LATKES:
Peel potatoes and onion and process with grating blade in food processor or grate by hand with box grater. Set aside.
In large mixing bowl, beat eggs and add grated potato, onion and rest of ingredients. Add more matzo meal or flour if mixture seems too wet.
Form 3-4" patties with your hands and squeeze out excess moisture.
Heat 2-3 tbsp of oil on medium heat in sauté pan.
Place patties down carefully in hot oil and let cook for 3-4 minutes on one side until you can see a little brown peeking out from underneath.
Carefully flip latkes away from your face and cook for another 3-4 minutes.
Remove latkes from pan and place on paper towel lined plate to remove excess oil. Keep warm in oven on lowest setting until all latkes are cooked.
Serve with apple sauce and horseradish sour cream. Or, try our Vegan alternatives: Vegan & Kosher Cashew Dipping Sauce or Tahini Sauce.
HORSERADISH SOUR CREAM:
Stir ingredients together and serve on top of latkes or on the side.
Notes
Make ahead tip:
You can freeze your latkes after you've cooked them. Place them in a single layer on a parchment lined pan and freeze them in a zip-top bag. When ready to reheat, take them directly from freezer and place on cookie sheet in 350 degree oven for 15-20 minutes. Turn them over once to prevent burning.