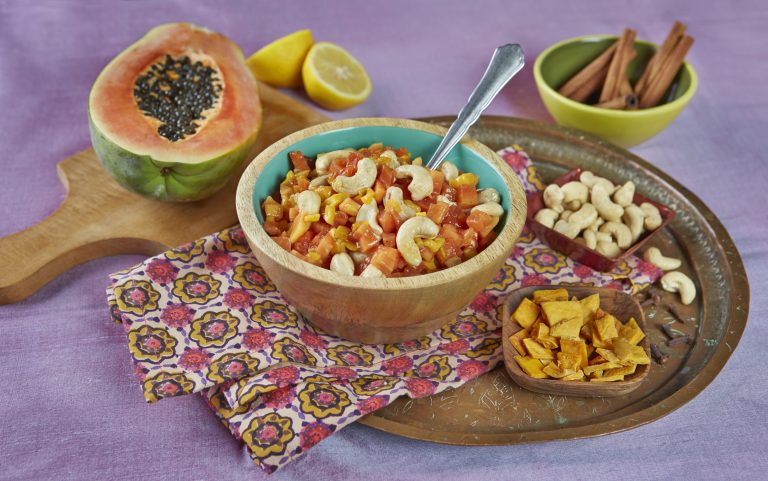 I wanted to highlight the flavors of the Jewish Experience in India. Did you know that Jews have lived in India for over 2,500 years and were the first foreign religious group to enter the country?
It is not surprising that the combination of Indian flavors and Jewish Tradition creates such a delicious and unique charoset recipe. We hope that you will love the combination of flavors of the mango, papaya and cashews along with aromatic Indian Spices.
Explore our other international charoset recipes here!
Makes approximately 3 cups
Ingredients
1 large papaya (or 2 small), peeled, seeded and finely chopped

1 cup dried mango, diced

3/4 cup whole raw cashews

juice of 1 lemon

1/2 tsp freshly grated peeled ginger

1/4 tsp cinnamon

1/8 tsp each ground cloves and cardamom
Instructions
Mix all ingredients together and serve.
Recommend making fresh but you can make it a day ahead and refrigerate it. 
If you would like to tailor your recipe, you can add ground date paste to symbolize the mortar the slaves used to build the walls during their slavery in Egypt. For a different type of Indian Charoset, you can find inspiration from grinding the ingredients into a paste which is part of the recipe tradition of the Bene Israel Indian Jews.