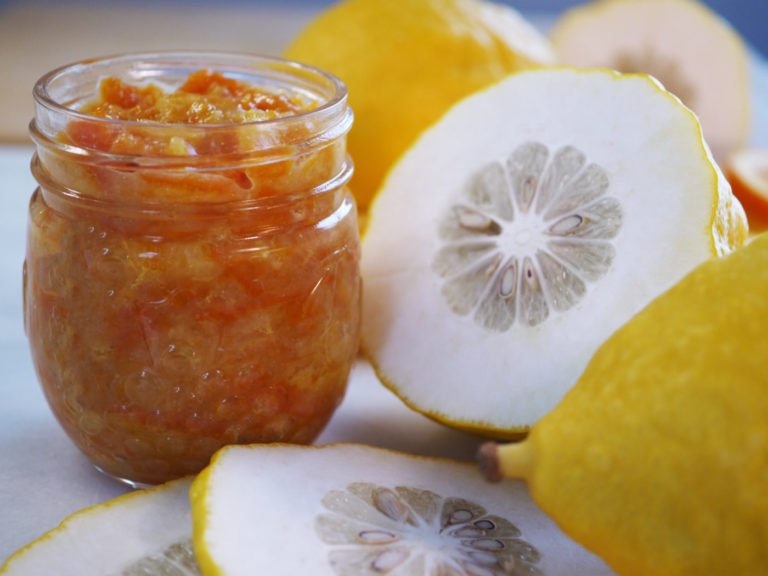 My daughters and I love to cook together. One of the first recipes we ever made together was cranberry jelly for Thanksgiving. We enjoyed the canning process so much that we explored other fruits that we could make into jam or jelly. While celebrating Succot, our Harvest Festival, they asked me if we could eat the Etrog, a special citrus fruit used in the Succot holiday. I replied, "why not" and developed this recipe for Etrog Marmalade. We make it for Succot then preserve it for Passover.
An etrog is a yellow citrus fruit, shaped like a lumpy lemon that is used during the celebration of Succoth. Originally only grown in the Middle East, Jews have planted etrog orchards all over the world, cultivating the fruit wherever it can thrive. Read our blog for more about the meaning of the etrog and the lulav.
Our family is obsessed with the etrog. I have an etrog from my childhood, which is now over 40 years old! It may be the oldest etrog in the World.
Four 12-oz jars
Ingredients
5 oranges, thinly sliced then quartered
1 etrog, thinly sliced, quartered, seeds removed and tied in cheesecloth
1 lemon, thinly sliced, quartered, seeds removed and tied in cheesecloth
4 cups water
2 cups sugar
1 vanilla bean (optional)
Instructions
Put water and orange, etrog and lemon quarters in a stock pot along with the etrog and lemon seeds that have been tied securely in cheesecloth. The seeds have natural pectin in them which will help thicken your marmalade.
If you're adding a vanilla bean, slice it down the middle, scrape out the seeds and put the seeds and the pod in the pot.
Bring pot to low boil then simmer for 15 minutes
Add sugar and simmer another 45 minutes or until the marmalade thickens to your liking
Remove cheesecloth bundle and discard
Remove vanilla bean (don't throw away; add to sugar to make delicious vanilla-flavored sugar!)
Pour marmalade into sterilized Mason jars using a funnel if possible to keep the marmalade from getting on the rim of the jar. Or spoon in carefully
Add lid to jar then twist on rim just until the jar turns on its own (about 4 turns). Don't twist tight
Lower jars into a pot of boiling water ensuring the jars aren't directly on the bottom of the pan (rest on other jar lids, a cooling rack or something like that)
Reduce heat and simmer for 15 minutes with cover on the pot
Turn off heat, remove lid and let jars sit in hot water another 5 minutes
Remove jars from pot and set aside at room temperature for 24 hours
Store in a cool, dark place for up to 1 year