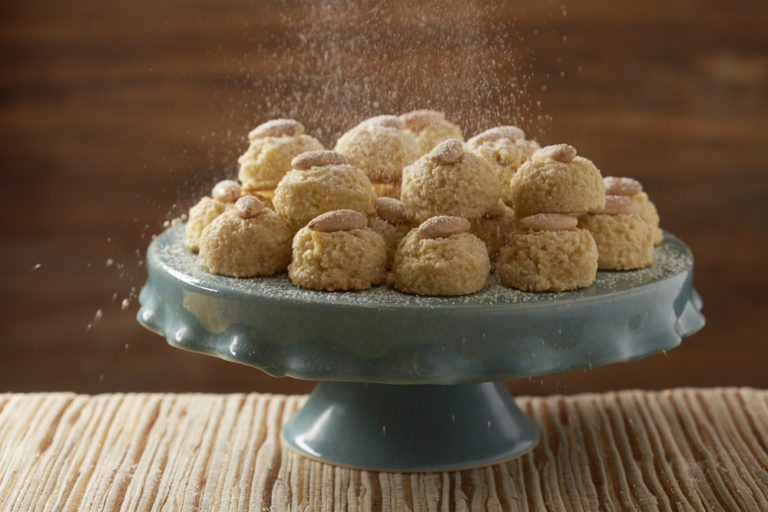 Almonds are very symbolic in Jewish tradition. In Hebrew, "shakad" is the word for almonds. Literally shakad translates as "hasty awakening" or "to watch for." In Israel, the January flowering of the almond marks the arrival of spring. The themes of the almond are spring, regeneration, divination, and fertility.
Our almond cookies are delicious — crunchy on the outside, chewy on the inside, and just a hint of rose water. They are fun and easy to make with the family. Lucy especially loves to be the designated helper when we make these cookies.
Watch the video below to see Andy & his daughter Lucy make this recipe.
Makes about 40 cookies
Ingredients
4 cups blanched almonds + about 40 almonds, lightly toasted in the oven (or 3 cups almond flour + 40 almonds)
1 tsp almond extract (optional but adds extra almond flavor)
2/3 cup superfine sugar (regular sugar is okay but texture is more tender with the superfine sugar)
3 tbsp rose water
2 eggs, beaten lightly
confectioners' sugar to sprinkle on top of cookies
Instructions
Preheat oven to 350°F
Toast 40 almonds in a preheated 350-degree oven for about 5-10 minutes (watch so they don't burn). You will top each cookie with an almond before baking.
Pulse the 4 cups of blanched almonds in a food processor until the texture resembles coarse flour.
Mix the almond flour with the sugar in a bowl.
Add the extract, rose water and eggs and mix to a smooth paste with a wooden spoon.
Scoop walnut-sized balls onto a parchment lined cookie sheet and top each with a whole toasted almond.
Bake 15-20 minutes or until lightly golden on top and slightly chewy in the middle. Remove immediately from cookie sheet so they don't overbake.
Let them cool before dusting with confectioners' sugar.
Notes
Time Saving Tip: Buy almond flour or meal instead of pulsing whole almonds. 3/4 cup of almond flour or meal per 1 cup freshly ground almonds. Freeze cookies fully baked on a flat cookie sheet. Once frozen, remove cookies from cookie sheet and store in freezer in zip-top bags or containers.