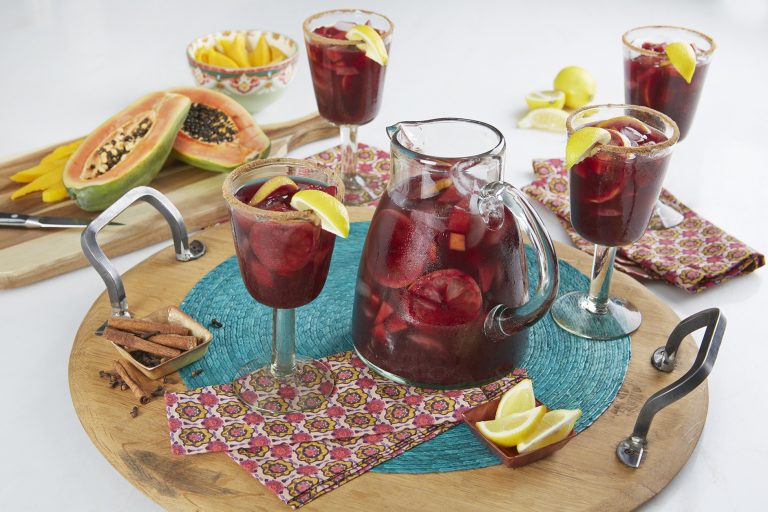 I wanted to highlight the flavors of the Jewish Experience in India. Did you know that Jews have lived in India for over 2,500 years and were the first foreign religious group to enter the country? It is not surprising that the combination of Indian flavors and Jewish Tradition creates such a delicious and unique recipe.
I adapted my personal Sangria recipe to incorporate an Indian flavor twist! We hope that you enjoy our Indian Jewish Sangria at your Passover Seder or in your Succah during Succot or anytime you would like. It is easy to make and delicious!
Serves 8-10
Ingredients
3 bottles red wine (we used a dry Israeli Cabernet / Merlot blend)

2 cups (1 pint) sweet red Kosher wine, such as Manischewitz

2 cups mango juice (we used Maaza brand from India)

2 fresh mangos, peeled and diced

1 large papaya (or 2 small), peeled, seeded and diced

2 lemons sliced into wheels and extra wedges for garnishing the glasses

Whole spices for infusing:  1 tsp cloves, 1 tsp cardamom, 1 2-inch piece of fresh ginger, 2 cinnamon sticks

Ground spices for rimming glasses:  mix of 1 tbsp cloves, 1 tbsp cardamom, 1 tbsp ginger, 1 tbsp cinnamon, pinch of cayenne (you can vary these amounts depending on which spices you like best)
Other equipment:
Instructions
Place all ingredients except spices in a large pot.

Warm whole spices in a pan on the stove until they become fragrant (2 minutes or so).

Tie spices up in a cheesecloth and submerge in the pot of Sangria.

Refrigerate Sangria for a couple of hours or ideally overnight.

Before serving, remove cheesecloth and pour Sangria in a pitcher.

Moisten rim of glasses with mango juice or water and dip in ground spice blend.

Serve over ice with a lemon garnish.
NOTE: If you would like your Sangria sweeter, you can make a simple syrup. Pour 1 cup sugar and 1 cup water in a saucepan. Heat until sugar dissolves and add your whole spices. Simmer for 5 minutes then turn off stove. Let sit with cover on for another 10 minutes. Strain, let cool and add simple syrup to the Sangria to your desired sweetness (recommend starting with 1/2 cup).