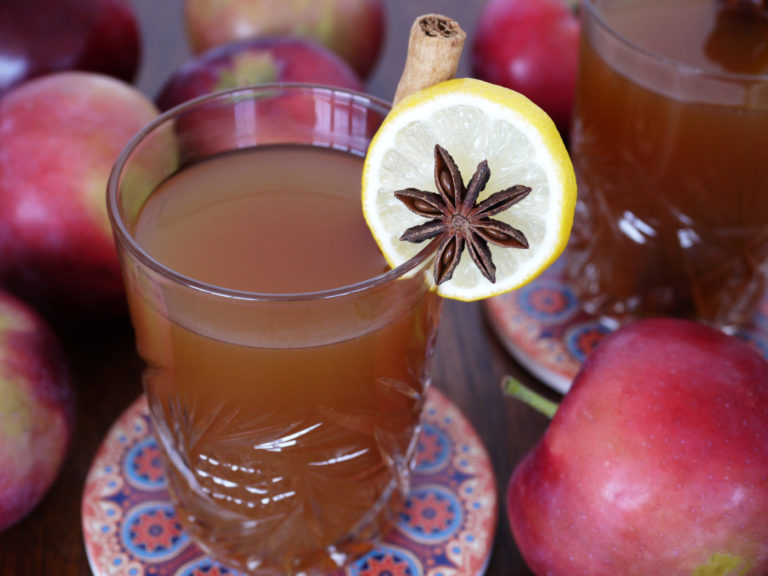 Here's something warm to sip in your succah when there's a Fall chill in the air. This recipe is a combination of a hot toddy and mulled cider since we steep warm spices in the cider. We think it makes the beverage extra appealing – smells amazing and tastes even better. We added apple cider and apple brandy in celebration of Succot.
Omit the apple brandy and bourbon for a non-alcoholic version that the kids can enjoy.
Serves 4
Ingredients
2-1/2 cups apple cider
1 cup freshly brewed black tea (Irish or English breakfast)
6 oz bourbon (we love

Mad River Distillers

, made by our friends from Vermont)
2 oz apple brandy
3 lemons (1 for steeping, 1 for squeezing into drinks and 1 for garnish)
1 vanilla bean
1 tbsp honey
4-5 whole cloves
5 cinnamon sticks (1 for steeping, 4 for garnish)
8 whole star anise (4 for steeping, 4 for garnish)
Instructions
Pour apple cider in a saucepan
Slice one of your lemons in quarters and add to pan
Split vanilla bean down the middle, remove seeds inside with a paring knife and place vanilla bean and seeds in the pan
Add honey, cloves, 1 cinnamon stick and 4 star anise to the pan
Bring cider to a boil then simmer for 20 minutes covered (after you turn off the stove, you can let the cider steep with the spices - the longer you let it steep, the more the spice flavors will permeate the cider)
Add tea to the steeped cider, strain and discard the spices (if you are making this ahead, keep the spices in and refrigerate)
To make each drink, add 1-1/2 oz of bourbon, 1/2 oz of apple brandy and a squeeze of a lemon wedge to a glass then fill the rest of the glass with your hot spiced apple cider/tea blend. (If you are making a non-alcoholic version, just leave out the bourbon and brandy)
Garnish each drink with a wheel of lemon, a cinnamon stick and a star anise (or just the lemon slice is fine as well)
Notes
You can make the steeped cider a few days ahead of time and store in the refrigerator. Simply reheat and follow the assembly steps in the recipe to make each Hot Toddy.