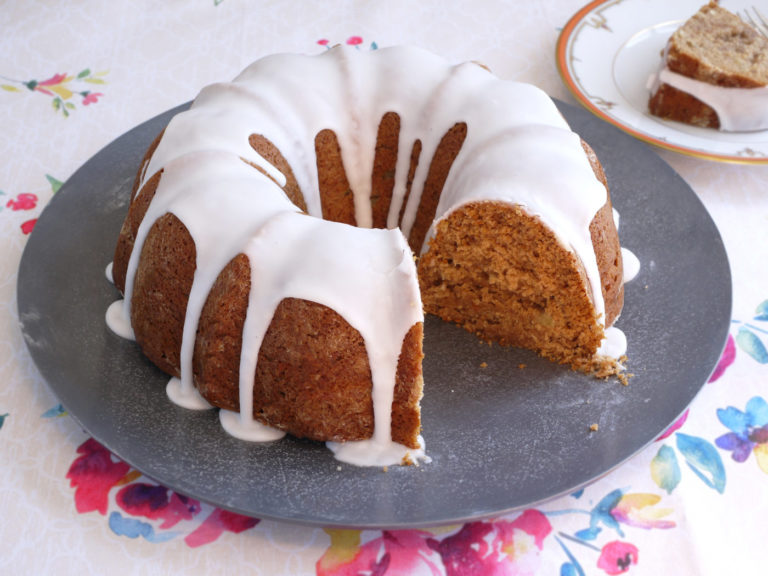 Celebrate Rosh Hashanah with a cake worthy of the New Year. This Apple Honey Cake has an added surprise for special celebrations — a buttery, crumbly layer of streusel right through the middle. It's an extra special treat for family and friends.
Serves 8-10
Ingredients
For Cake Batter:
2 sticks butter, melted + 1 tbsp, melted for greasing the pan
3-1/2 cups all-purpose flour + extra for the pan
1 cup granulated sugar
1/2 cup light brown sugar, lightly packed
1 cup raw honey
3 large eggs
4 Granny Smith apples - 2 peeled and finely chopped; 2 peeled and pureed (or substitute 1-1/2 cups apple sauce for the 2 apples)
zest & juice of 1 lemon
1 tsp vanilla extract
1 tbsp baking powder
1 tsp baking soda
1 tbsp cinnamon
1 tsp kosher salt
1/2 cup pomegranate juice
For Streusel Layer:
3/4 cup flour
3/4 cup light brown sugar
2 tsp cinnamon
1/4 cup butter, chopped into small cubes
1/4 cup walnuts, chopped (optional)
For Icing:
1-3/4 cups confectioners sugar
1/4 cup lemon juice
zest of 1 lemon (or more!)
Instructions
Make Streusel:
Combine all your ingredients in a small bowl and mix with your hands until it forms a crumbly mixture
Set aside
Make Cake Batter and Layer with Streusel:
Preheat the oven to 350°
Brush a bundt cake pan with melted butter, making sure you coat every crevice so the cake doesn't stick to the pan then sprinkle a little flour all around the pan and turn it to coat evenly. Tip extra flour that hasn't adhered to the butter out of the pan
Sift your dry ingredients - flour, baking powder, baking soda, cinnamon and salt. Set aside
In a small bowl, combine the apple puree with the pomegranate juice. Set aside
Using a stand mixer or hand mixer, mix the melted butter, granulated sugar, honey, brown sugar, eggs, lemon juice and zest, and vanilla on medium speed until smooth (a minute or so)
With the mixer on low, add the flour mixture from Step 3 in thirds. Scrape down the bowl in between to ensure the batter is well combined
Add in the apple puree and pomegranate juice mixture and mix just until combined
Fold in your chopped apples
Pour HALF the batter into the buttered bundt pan
Evenly distribute the streusel layer in the middle of the cake batter then pour in the rest of the batter and smooth out completely covering the streusel
Bake for 75-85 minutes or until a knife comes out clean when inserted into the cake (ovens vary)
Let cool for 10 minutes in the pan, loosen the edges gently with a round-edged knife and invert onto a cake stand or plate (use potholders - pan will still be hot). Let completely cool before icing or icing will melt
Make Icing and Ice Cake:
With a hand or stand mixer, mix all ingredients together until smooth. Icing should be fairly thick so that it will coat the cake nicely and slowly drip down the edges
If you'd like to keep your cake stand nice and tidy while you decorate, insert pieces of parchment paper under the cake which you can pull out once you're done icing the cake
Spoon icing into a vessel with a spout (a flexible silicone measuring cup works great) and slowly pour the icing over the top of the entire cake in a clockwise motion (or use a cake stand and turn the stand). Gently encourage the icing to drip down the sides with a spoon or offset spatula if necessary
Slice and serve
Notes
Cake will stay fresh for 2-3 days. Be sure to cover with plastic wrap and add icing the day you will be serving it.