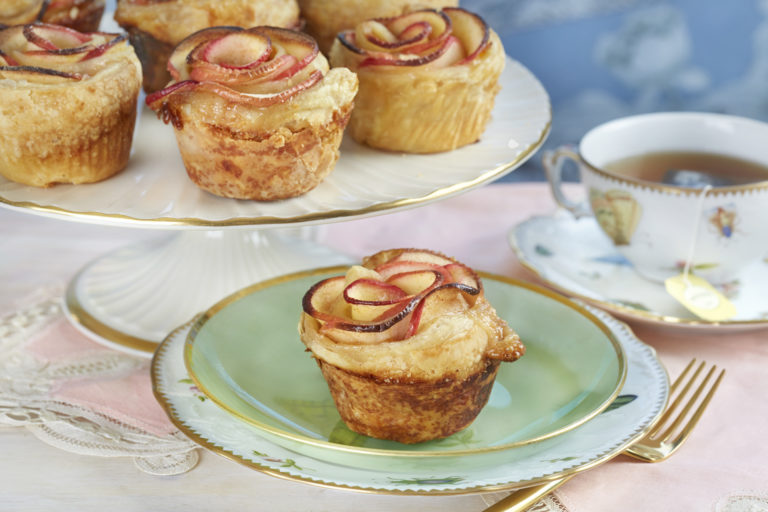 Whether celebrating Rosh Hashanah, the abundance of Succot or a Bar/Bat Mitzvah, these beautiful stuffed Apple Rose Pastries made extra magical with the addition of almond paste.
Make these with the family and take turns rolling the dough, laying down the apple slices and rolling up the pastry. Watch the video below and follow the step-by-step instructions for best results.
Makes 4-5 Apple Rose Pastries per sheet of puff pastry
Ingredients
1 package frozen puff pastry sheets (there are 2 sheets in a Pepperidge Farm package)
flour for rolling out pastry sheets
2 red apples
1 13-oz jar of Etrog Marmalade or orange marmalade
1 7-oz package of almond paste (available in specialty food stores, some grocery stores and online)
1 cup sugar
1 tbsp cinnamon
juice of 1 lemon
water for partially cooking the apple slices and thinning out jam/marmalade
Instructions
Preheat to 375 degrees
Prep:
Butter a muffin tin or ramekins.
Thaw puff pastry sheets per package instructions.
While puff pastry is thawing, mix cinnamon and sugar in a bowl and set aside.
Spoon marmalade in a bowl and stir in a little water so it's easy to spread on the pastry (have a pastry brush or spoon handy).
Add water and lemon juice to a medium size bowl (enough to cover the apple slices).
Cut 2 apples in half and remove cores. Thinly slice the apple halves (almost paper thin). Do not peel apples. The red color is what gives the pastry the red rose color.
Place slices of apple in the lemon water so they don't brown.
Microwave apples for about 2-4 minutes so they are bendable and won't break when rolled. You can also cook the apples on the stovetop in lemon water for 3-5 minutes. Strain apples, pat dry and spread out so you can easily pick them up and layer them on the pastry dough.
Flour your work surface and roll out a sheet of pastry. Cut 4-5 vertical strips about 10" long. Cover the ones you are not currently working on with a damp towel so they don't dry out.
Assembly:
For each strip, brush with marmalade.
Sprinkle a generous amount of cinnamon-sugar over the entire strip.
On the right side of the strip, overlay your apple slices so the red rounded edge of the slices are facing out.
To the left of the apple slices, add little pads of flattened almond paste.
Fold the left side of the strip over the pads of almond paste (about 1").
Roll up the strip and place in a buttered muffin tin or ramekin.
Repeat and bake roses for 30 minutes at 375 degrees then adjust heat to 350 and bake for another 20 minutes.
Remove from tins (you may need a round-edge knife to loosen them from the pan or ramekin). Best served warm.
Notes
Almond paste is available
online
, in specialty stores and better supermarkets such as Whole Foods