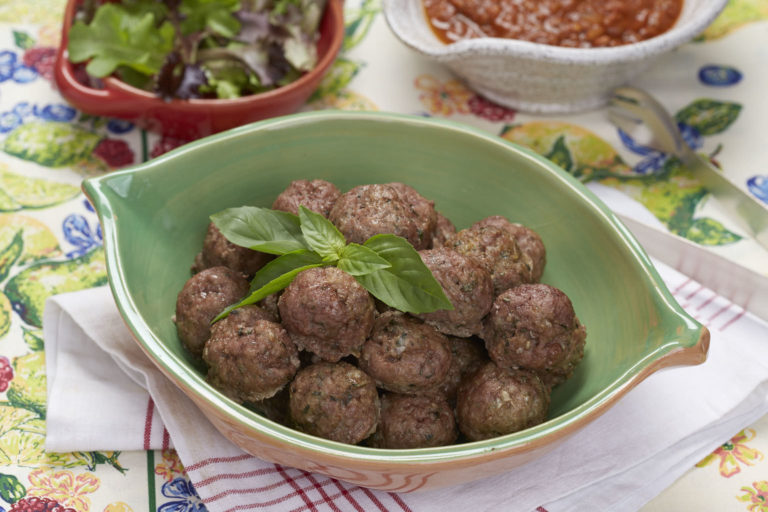 Great for special holidays/events, or whenever you're serving a crowd, these meatballs are full of flavor with two kinds of meat and a variety of herbs. Make them ahead and pop them out of the freezer whenever you're ready to cook and serve.
Makes 25-30 meatballs depending on size
Ingredients
1 lb ground beef
1 lb ground veal
1/4 cup breadcrumbs, fresh (keeps meatballs moister than dry breadcrumbs)
2 shallots, diced
1 tbsp dried oregano
1 tbsp dried basil
1 tbsp dried parsley
2 cloves garlic, chopped
1/2 cup parmesan cheese (omit to make kosher)
2 eggs, slightly beaten
salt & pepper to taste
Instructions
Preheat oven to 350 degrees.
Line a baking sheet with parchment paper.
Combine all ingredients in a large bowl and form meatballs of desired shape.
Take a small piece of the meatball mixture and cook on stovetop to ensure it is seasoned to your taste. Adjust if needed.
Place meatballs on baking sheet and bake for 20-25 minutes (to test doneness with a meat thermometer, meatballs should be 160 degrees).
Enjoy as is or with Andy's Meat Sauce.
Notes
Tip: You can make the meatballs ahead and freeze them uncooked in a single layer on a baking sheet and then place them in a zip-top bag and back into freezer. When you want to cook them, remove from freezer and bake at 350 degrees for 25-30 minutes (no need to thaw them first).