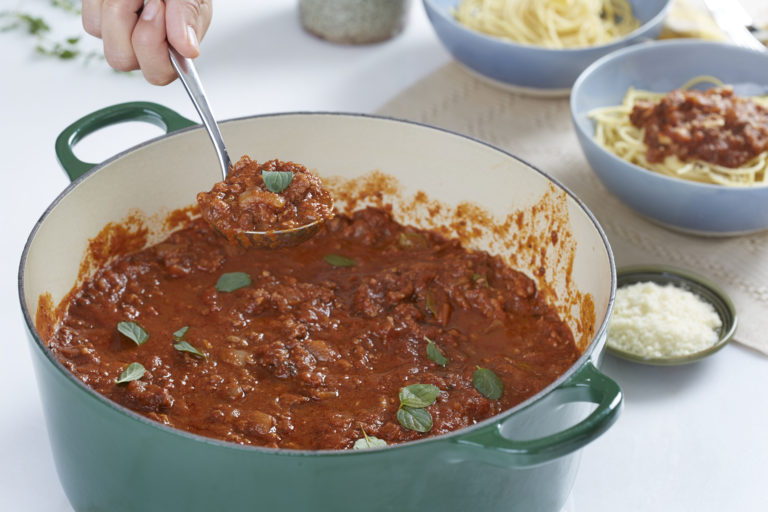 The wonderful array of ingredients in Andy's Meat Sauce including 3 kinds of meat, lots of fresh and dried herbs and red wine makes this sauce stand out and stand up to meatballs, lasagna or a simple plate of pasta. Andy's unique technique of blending the sauce base before cooking the sauce saves time and makes the whole process a bit easier. Sauce always tastes better the second day so if you have time, make it ahead.
Serves 10-12
Ingredients
1/4 cup olive oil
2 28-oz cans crushed tomatoes
1 can tomato paste
1 lb ground beef
1 lb ground veal
1 lb of ground buffalo (or another pound ground beef or veal)
2 large onions, quartered
4 shallots, rough chopped
8 cloves garlic, 6 chopped (reserve 2 of the garlic cloves for sauce)
1 can anchovies
1/2 cup fresh basil
1/2 cup fresh oregano
1 tbsp dried basil
1 tbsp dried oregano
1 cup red wine
1 tsp salt
1/2 tsp pepper
Instructions
In a blender, puree crushed tomatoes, tomato paste, two cloves of garlic, fresh oregano, fresh basil and anchovies.
Heat olive oil in large heavy-bottomed pot or dutch oven on medium-low heat. Add onions and shallots and sauté until they are translucent.
Add chopped garlic (6 cloves) and sauté for an additional 1 minute. Stir constantly so you don't burn the garlic.
Add the ground veal, beef and buffalo, salt and pepper and stir frequently until cooked through (5-8 minutes).
Add 1/4 bottle of red wine. Bring to a boil and then simmer 10 minutes.
Add dried basil and dried oregano to pot.
Add the blended tomato sauce to the pot and let simmer for 1 hour, stirring frequently.
Adjust salt and pepper seasoning as needed.
Serve with our Classic Meatballs, Classic Lasagna or over pasta.
Notes
Tip:  You can make the sauce ahead and freeze it.