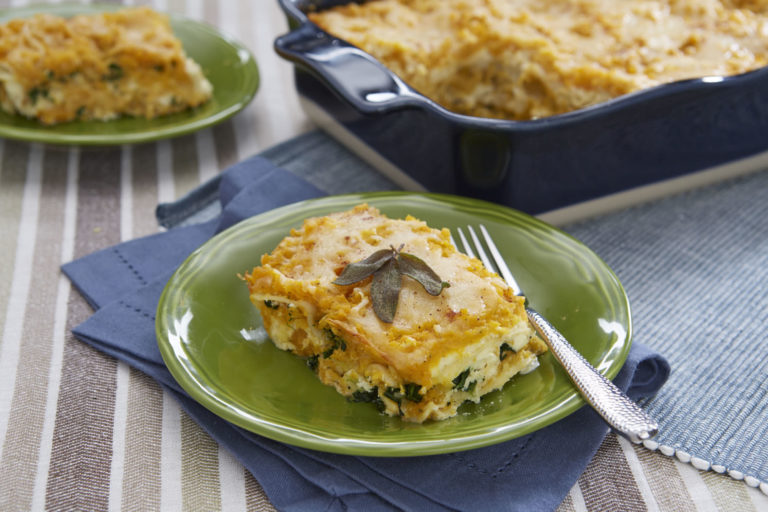 The Succot holiday celebrates fall harvest and nothing says fall harvest better than butternut squash.
We created this vegetarian lasagna recipe for the Italian spread we create for our family and friends. We love to cook with fresh local ingredients and butternut squash is plentiful in New England in the fall. Not only does the classic combination of squash and sage taste delicious but the bright orange color looks beautiful on your table. This recipe is also an ideal vegetarian option for your Bar/Bat Mitzvah menu.
Serves 10-12
Ingredients
1 box lasagna noodles (1 lb, pre-cooked dried if possible)
2 medium-sized butternut squash (roasted, peeled, seeds removed and rough chopped - about 8 cups. or you can buy already prepped at the supermarket)
1 cup fresh sage
2 tbsp honey
1 lb frozen spinach, defrosted and water squeezed out
1 cup mascarpone cheese
3 cups fresh mozzarella cheese, grated
2 cups parmesan cheese, grated (1/2 cup for ricotta mixture, 1-1/2 cups to sprinkle over layers)
2 quarts ricotta cheese (two containers)
1 egg, lightly beaten
2 tsp salt
pepper to taste
Instructions
Prepare Lasagna Components:
Preheat oven to 375 degrees.
Roast butternut squash whole for 1 hour or until you can easily pierce with a knife.
Meanwhile, in a mixing bowl combine the ricotta cheese, 1/2 cup parmesan cheese and egg. Set aside.
When squash is cooked, let cool slightly, cut in half horizontally, peel, remove the seeds and roughly chop.
Place squash, mascarpone, sage, honey, salt and pepper in a food processor or blender and pulse, leaving some chunks of squash for texture.
Layer the Lasagna:
In a 3 quart or 4.8 quart lasagna pan, make layers of butternut squash puree, spinach, ricotta mixture, parmesan, mozzarella and lasagna sheets until pan is full (3-4 layers). Do not put mozzarella on the top of lasagna until it has baked for 45 minutes covered with aluminum foil. Then add mozzarella and bake uncovered for an additional 15 minutes or until mozzarella is melted and slightly brown.
Let cool for 30 minutes before cutting slices.
Notes
Tip: You can assemble the lasagna a day ahead and refrigerate unbaked. Or you can bake, let cool, refrigerate and reheat. Lasagna tastes even better the next day.