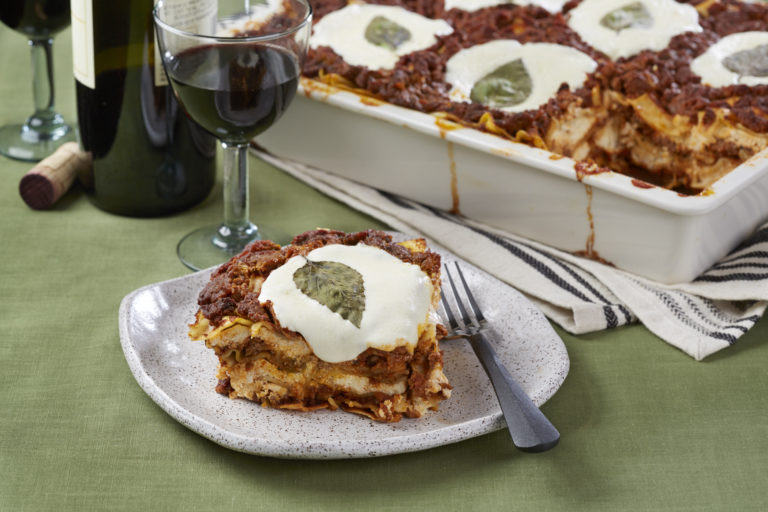 Although this is not a traditional Succot dish, lasagna is always part of the Italian feast we serve for our annual Succot parties. In fact, we make two different kinds! This lasagna is not kosher so if you prefer a kosher lasagna recipe, try our Butternut Squash Lasagna. Watch our video below for tips on layering up your lasagna.
Ingredients
For the Meat Sauce
1/4 cup olive oil
1 lb ground beef
1 lb ground veal
1 lb of ground buffalo (or another pound ground beef or veal)
2 large onions, quartered
4 shallots, rough chopped
8 cloves garlic, chopped (reserve 2 of the garlic cloves for sauce)
2 28-oz cans crushed tomatoes
1 can tomato paste
1 can anchovies
1/2 cup fresh basil and extra whole basil leaves for the top of the lasagna
1/2 cup fresh oregano
1 tbsp dried basil
1 tbsp dried oregano
1 cup red wine
1 tsp salt
1/2 tsp pepper
For the Lasagna Filling and Layers
1 box lasagna noodles (1 lb, pre-cooked dried if possible)
3 cups fresh mozzarella cheese, grated (and some whole slices for top layer)
2 cups parmesan, grated
2 quarts ricotta cheese (two containers)
2 eggs, lightly beaten
Instructions
For the Meat Sauce
In a blender, puree the crushed tomatoes, tomato paste, two cloves of garlic, fresh oregano, fresh basil and anchovies.
Heat olive oil in large heavy-bottomed pot or dutch oven on medium-low heat. Add onions and shallots and sauté until they are translucent.
Add chopped garlic (6 cloves) and sauté for an additional 1 minute. Stir constantly so you don't burn the garlic.
Add the ground veal, beef and buffalo, salt and pepper and stir frequently until cooked through (5-8 minutes).
Add 1/4 bottle of red wine. Bring to a boil and then simmer 10 minutes.
Add dried basil and dried oregano to pot.
Add the blended tomato sauce to the pot and let simmer for 1 hour, stirring frequently.
Adjust salt and pepper seasoning as needed.
For the Lasagna Filling and Layers
Preheat oven to 350 degrees.
In a mixing bowl, combine the ricotta cheese, 1/2 cup parmesan cheese and eggs.
In a 3 quart or 4.8 quart lasagna pan, make layers of lasagna noodles, meat sauce, mozzarella, parmesan and ricotta mixture (a cookie scoop is a great tool for layering in the ricotta mixture).
Add another layer of lasagna noodles, meat sauce, mozzarella, parmesan and ricotta mixture.
For third layer, put only sauce on top of the lasagna until you've baked the lasagna for 45 minutes, covered with aluminum foil. Then add slices of fresh mozzarella to the top and bake uncovered for an additional 10-15 minutes or until the mozzarella has melted. Add a piece of basil to each slice and bake for an additional 2-3 minutes.
Let cool for 30 minutes before cutting slices. Dig in!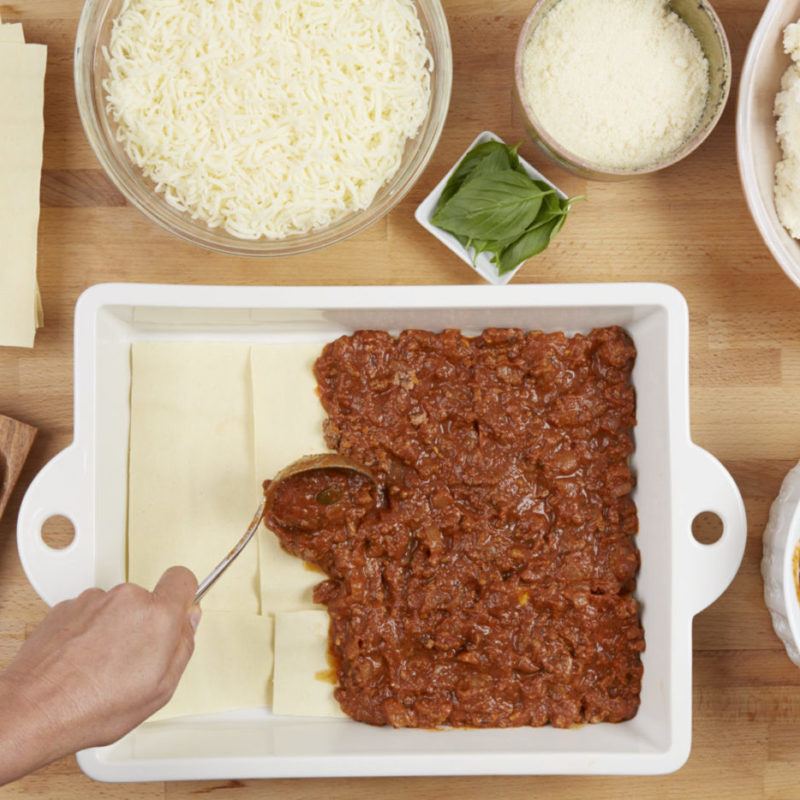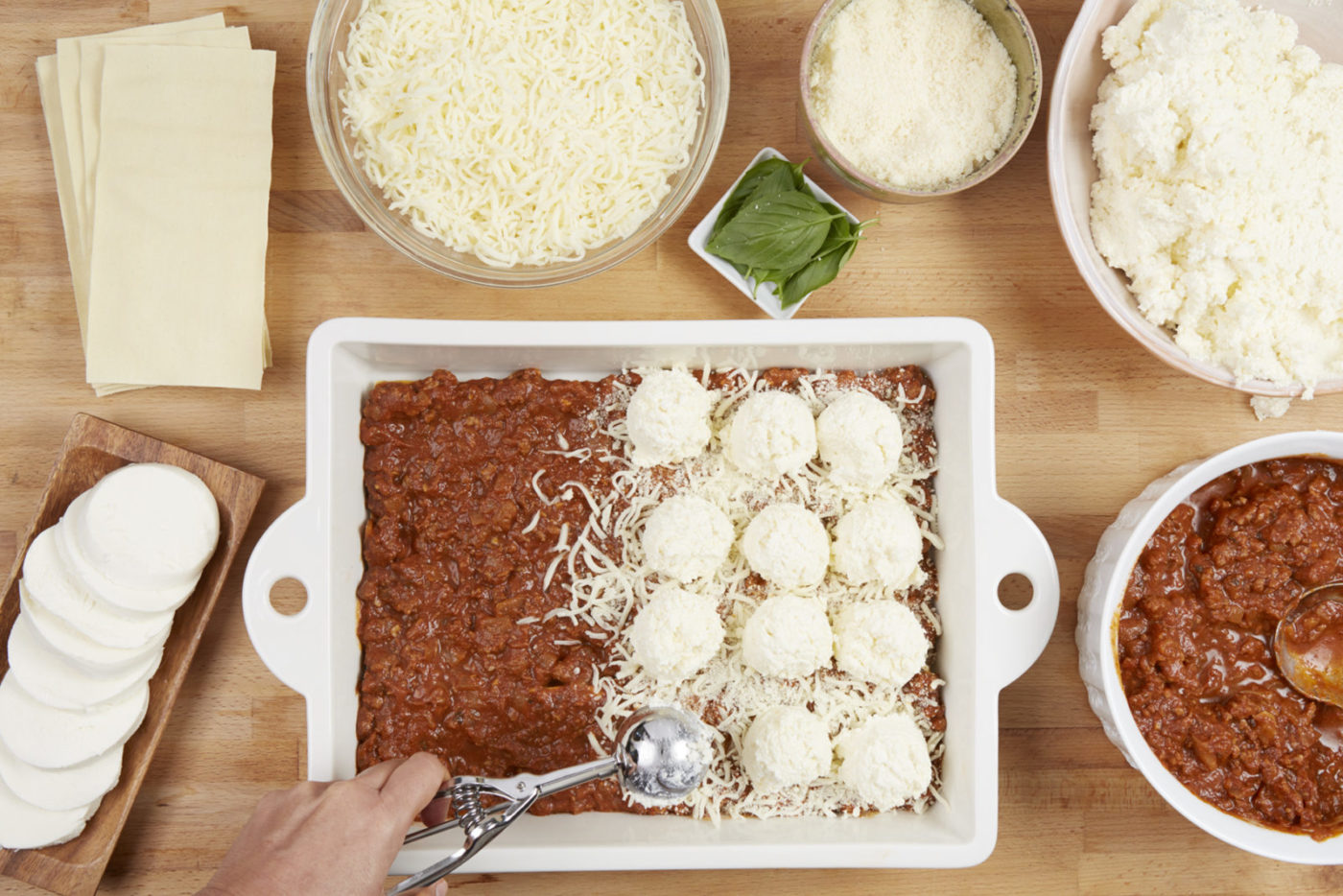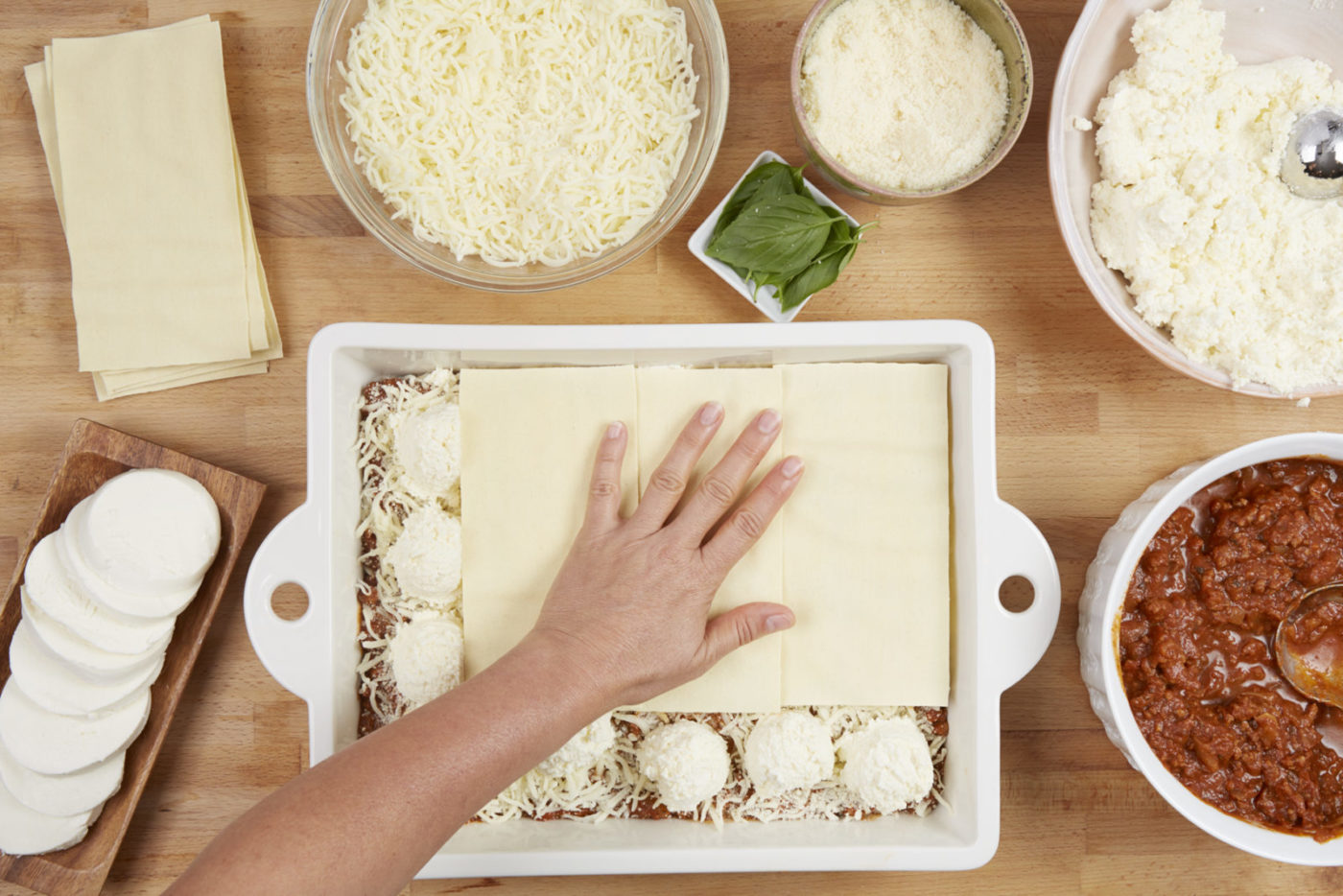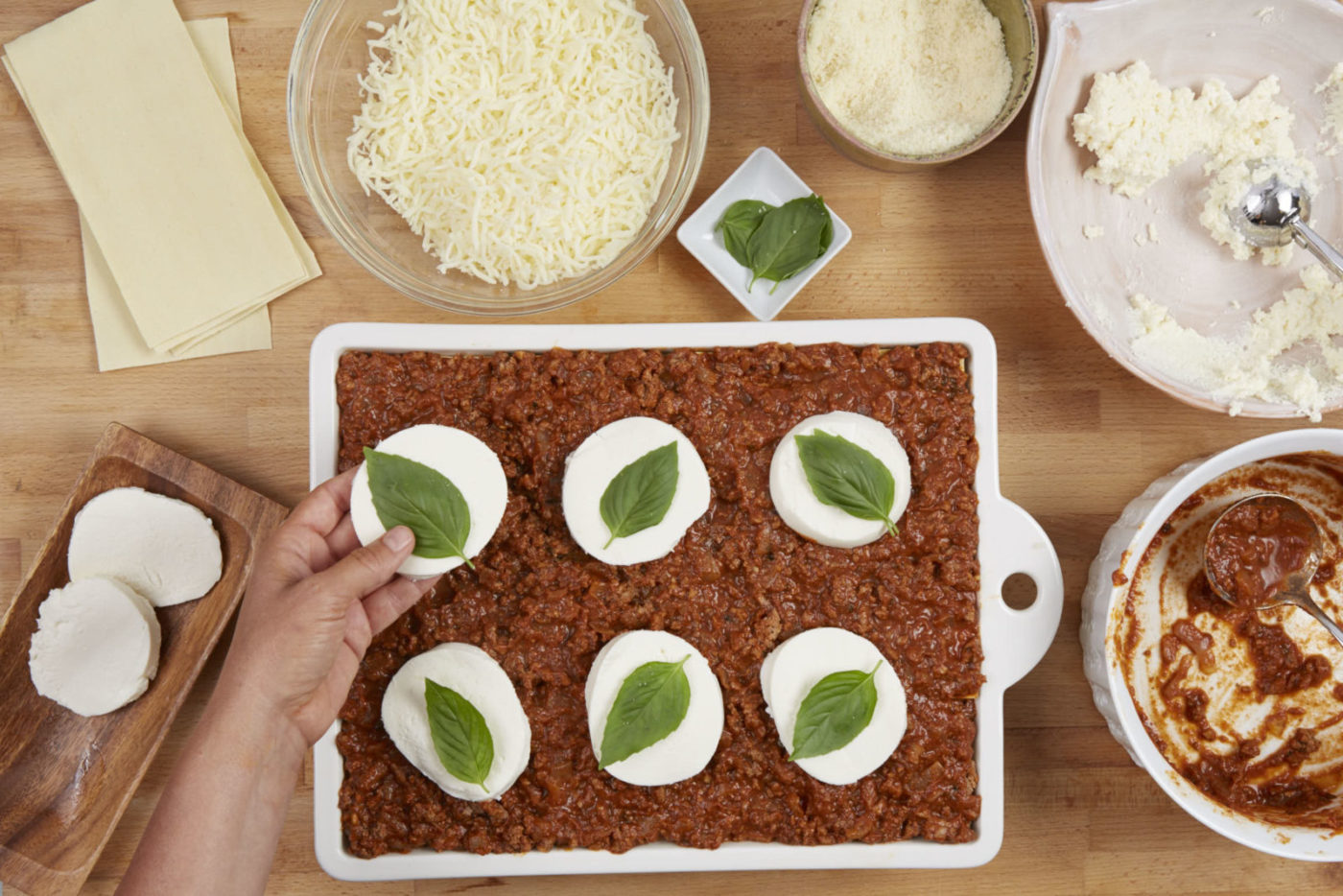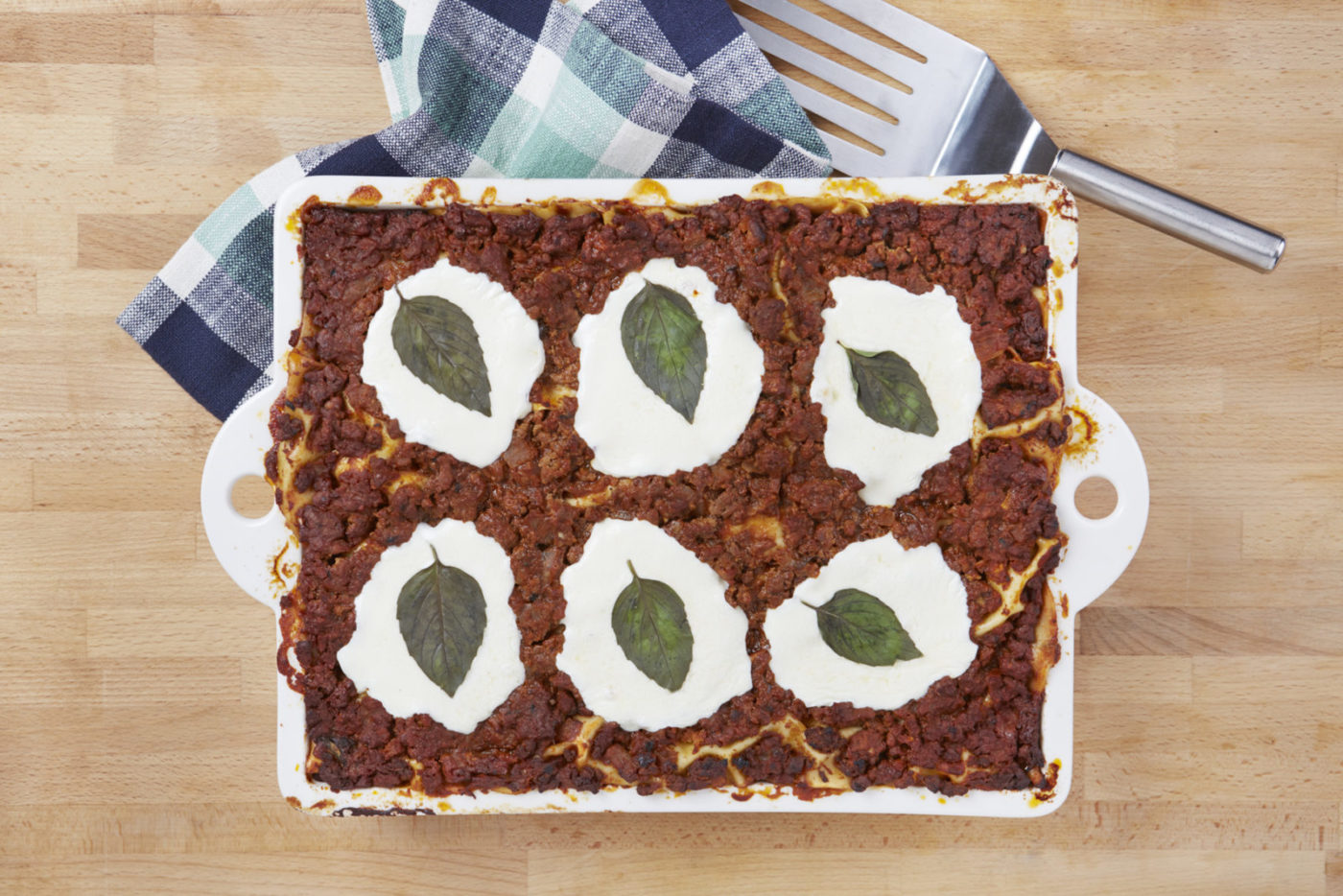 Notes
Tip: You can assemble the lasagna a day ahead and refrigerate unbaked. Or you can bake, let cool, refrigerate and reheat. Lasagna tastes even better the next day. You can also make the sauce ahead and freeze it.