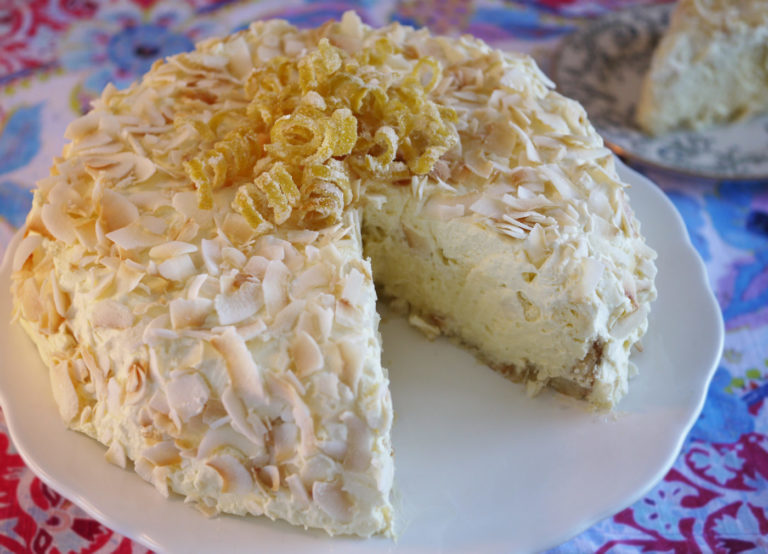 Macaroon and coconut fans will absolutely love this cheesecake. With a toasted coconut crust, coconut milk in the cheesecake and grated coconut all around the sides of the cake, every bite is a coconut delight. If you're adventurous, we recommend making some Lemon Curls to go on top. The lemon pairs really well with the richness of the dessert.
Our coconut cheesecake will delight in your succah, at your Shabbat table or your Passover Seder.
Serves 8-10 (a small slice is all you need)
Ingredients
For the Crust:
2 cups sweetened coconut toasted at 350 degrees for 10 minutes
1 cup melted butter, cooled + extra for greasing the 8" cake pan
1 cup almond flour
1 egg white
For the Cheesecake Batter:
3 packages cream cheese (24 oz total)
1-1/4 cups sugar
3 eggs

 

1/2 cup full fat coconut milk
1 tsp vanilla extract
1 tbsp lemon juice
1 tsp lemon zest
For the Whipped Cream Topping:
1 pint heavy cream
1 tbsp sugar
1/2 tsp lemon or orange extract
For Garnish:
1/2 to 3/4 cup sweetened coconut
1/4 cup unsweetened toasted coconut (you can purchase it already toasted)
Extra points! Candied Lemon Curls:
If you want to make your cake even more special, add some extra lemon love to the top.
zest of 5-6 lemons (use the side of a lemon zester for best results)
2 cups sugar + 1 extra cup to roll cooked lemon zest in
2 cups water
Instructions
Make Candied Lemon Curls
(optional bonus!)
Using the notched side of the lemon zester, make 6-8 long thin strands of lemon peel
In a small saucepan, add your water and sugar and simmer on low heat until the sugar is dissolved
Add your lemon strands to the pot and let simmer for 20 minutes
Meanwhile, preheat your oven to 200 degrees, line a baking sheet with parchment paper and have some metal skewers handy
Remove strands from liquid (save that liquid for cocktails or lemonade!) and roll in bowl of sugar
Wrap each lemon strand around a skewer and lay flat on the baking sheet
Dehydrate lemon curls for 1 hour or until they are dry and the curl shapes have set
Slide the curls off the skewers and refrigerate in a bowl until you're ready to decorate the cheesecake. You can store extra lemon curls in a container in the refrigerator for a couple of weeks. They make great garnishes for desserts and cocktails
Make Crust:
Preheat the oven to 350 degrees
Spread the sweetened coconut out on a parchment lined baking sheet and toast for 10 minutes, flipping over a couple times to ensure it doesn't burn
In a medium-sized bowl, combine the toasted coconut, melted butter, almond flour and and egg white. Mix with a wooden spoon until fully combined
Press into an 8-inch buttered cake pan with a removable bottom making sure to evenly coat the bottom and about 1/2" up the sides of the pan
Bake for 15 minutes
Remove from oven and let cool
Make Cheesecake Batter:
Preheat oven to 350 degrees
Mix the cream cheese and sugar until smooth
Add the eggs one at a time and scrape down the bowl in between as needed to ensure all ingredients are incorporated
Add coconut milk, vanilla, lemon juice & zest and mix just until combined
Pour mixture into cooled crust
Wrap cake pan in tin foil and place in a roasting pan. Pour hot water about 1/3 of the way up the pan. This keeps your cheesecake from cracking
Bake for 1 hour until the cheesecake is set. Insert a toothpick and it should come out clean
Carefully remove pan from oven and remove cheesecake from the roasting pan
Let cool on a rack for about 2 hours
Carefully run a round edge knife around the outside of the cheesecake and release the cheesecake from the sides of the pan but keep it on the bottom piece.
Move your cheesecake to the refrigerator and chill for a minimum of 4 hours
Make Whipped Cream Topping and Garnish the Cheesecake:
Whip the cream with the whip attachment of your mixer until soft peaks begin to form
Slowly add your sugar in
Add your lemon or orange extract and whip until stiff peaks form.
Remove your cheesecake from the refrigerator and place on a serving platter (if you want to keep your platter tidy while you decorate, place some pieces of parchment under or very close to the cheesecake. You can remove them when you're finished)
Grab handfuls of the sweetened coconut and press it to the outside of the cake all the way around
Add generous dollops of whipped cream on top and make little peaks and valleys with a spoon
Sprinkle unsweetened toasted coconut all over the top
If you were adventurous and made the Candied Lemon Curls, add a handful on top