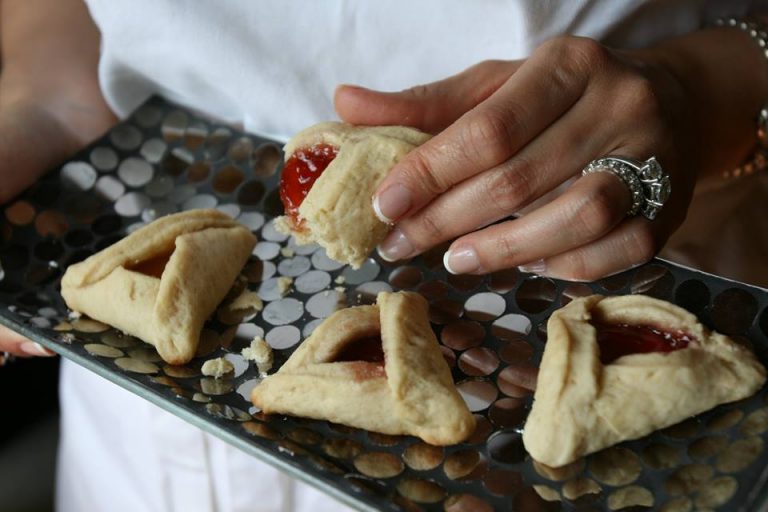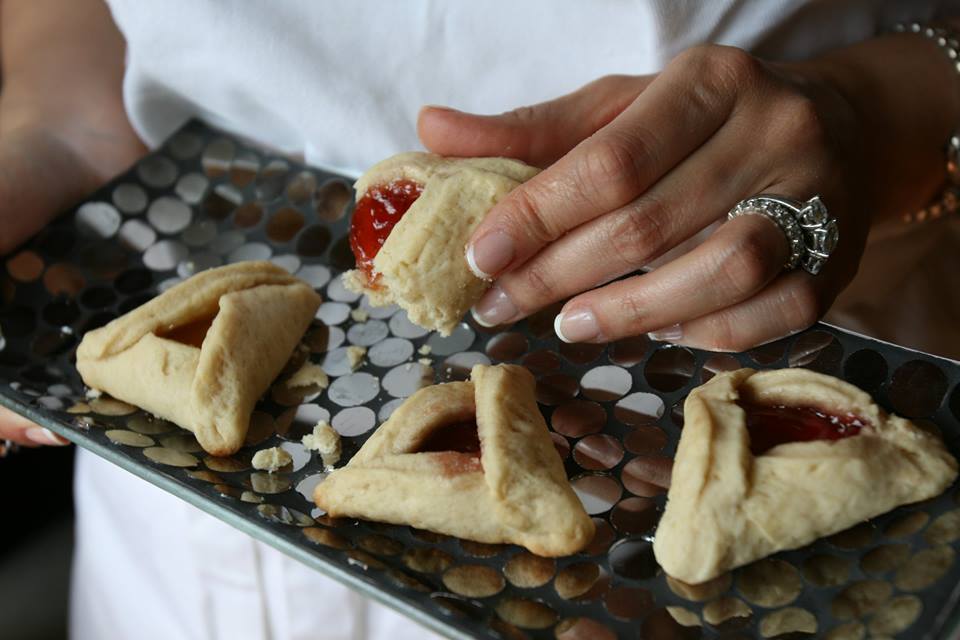 Preparing for Purim? Here's an excellent recipe for Hamantashen with some great history and tips from our friend Reyna at Kosher Persian Food.
This is a great recipe to make with kids. I love getting my kids all excited about the holidays, and getting messy over a batch of hamantashen is part of the fun! Hamantashen are cookies that are traditionally consumed during the holiday of Purim. Hamantashen cookies mimic the three-cornered hat that the villain, Haman (boo!) wore. Hamantashen actually means " Haman's pocket" in Yiddish…wait a minute! Yiddish? Yes, in fact, back in Iran there were no hamantashen! Very funny, considering that all the events that lead to Purim happened in Iran. Traditionally, Persian Jewish families in Iran made halvah for Purim. I love halvah, but I can't give up my hamantashen on Purim! Another beautiful explanation for eating cookies with hidden fillings is because Queen Esther was a hidden Jew.
My friend Shifra Schwartz taught me this recipe.
50 cookies
Ingredients
3 eggs
1 cup sugar
¾ cup canola oil
⅓ cup apple juice or sweet wine
1 tbsp vanilla extract
1 tsp almond extract
1 tsp baking powder
5 cups flour
Fillings (your choice): 
strawberry or apricot preserves
chocolate chips or brownie mix, prepared according to package directions
prune butter
Instructions
Preheat oven to 350°F. Line three cookie sheets with parchment paper.
Beat eggs and sugar until creamy. Add oil and combine. Add juice or wine and extracts. Add baking powder. Gradually add the flour until a dough with smooth consistency is achieved.
Flatten a portion of the dough ⅛-inch thick. Cut out 3-inch diameter circles and spoon ½ teaspoon preserves or any other filling onto the middle. Pinch at the corners with wet fingers, sealing very well. Place raw cookies about 1 inch apart onto prepared cookie sheets. Repeat until all the dough has been used.
Bake for 10 to 15 minutes until the bottom is golden. Cool on racks.
Notes
When I first made these cookies they looked more like a Mexican sombrero than the famous three-cornered hat. To keep the corners together, it is helpful to brush egg onto the edges of each dough circle. It is imperative you do not overfill these cookies; if you do, they will pop open—at which point they are totally useless and have to be tragically eaten by the chef (ahem, me!) before anyone dares to see them. Another great tip is to show as little of the filling as possible. Also, pinch them very well (getting all your aggression out) with moist fingertips and, to prevent the dough from drying out, keep the remaining dough inside a zipper-top plastic bag while you work on each batch.