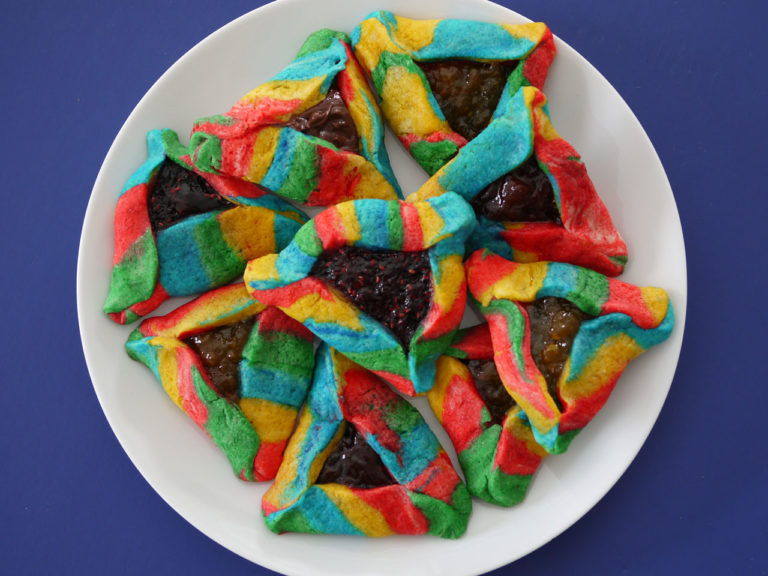 I am excited to share my brother Laurence's Hamantaschen recipe with you as it is my first Breaking Matzo collaboration with him.
Laurence is the best older brother. He has been an inspiring mentor and best friend to me in so many ways. And, he's an expert baker! This creative and colorful Hamantaschen recipe is a family favorite we all look forward to for Purim. It is with great pride and love that I share my first sibling Breaking Matzo recipe and video! I am excited for the next series with my younger Brother Alex…coming soon!
Be sure to try our homemade Poppy Seed Filling recipe which is my personal favorite!
Makes 24-30 Hamantaschen cookies depending on size of cookie cutter
Ingredients
Dough
½ cup vegetable shortening
½ cup unsalted butter
1½ cups sugar
2 eggs
¼ cup orange juice
1 tsp almond extract
1 tsp vanilla extract
4½ cups flour
2 tsp baking powder
¼ tsp salt
food coloring or gel (neon colors recommended)
Filling
Baker's choice:  jam, hazelnut-chocolate spread, poppy seed filling or dulce de leche
Instructions
Make Dough
Using a stand mixer or hand mixer, combine your first seven ingredients on low until the mixture has a creamy yellow consistency
In a separate bowl, combine flour, salt and baking powder with a whisk or fork
Gradually add the flour mixture to your mixing bowl and mix on low. A thick cookie dough will form
Once dough is formed, divide it into 4 quadrants
Color Dough
Place each of the dough portions into a separate bowl. Choose your food coloring – an array of 4 bright colors will create your unicorn effect. Add one food color to each bowl (a few drops of each should do but color to our liking). Use food-safe gloves to avoid discoloring hands, and work color into the dough one color at a time (start with light colors and then progress to darker colors)
Layer Dough in Pan (8 layers)
Line the bottom of a 8.5 x 4.5" container or loaf pan with plastic wrap
Cut each dough color in half (so you will now have 8 separate dough portions) and roll each into a long rectangular piece to layer into the bottom of the glass. Be sure to keep the same order of layers 5-8 that you created in layers 1-4. Apply light pressure when you place in each layer so the dough layers will stick together
Cover container of dough with plastic wrap and refrigerate for a minimum of 1 hour
Once chilled, take dough out of the refrigerator and preheat oven to 350° F
Slice, Roll, Shape & Bake
Carefully lift dough from the glass container grabbing corners of plastic wrap lining. On a cutting board, slice your dough into ¾"-1" slices from top down (similar to slicing bread)
Lightly flour your surface (or roll between 2 sheets of parchment paper). Roll each slice into ¼" thickness with a rolling pin. Then, with a 3" or 4" circle cutter or glass, cut out rounds. Save the excess dough and re-roll out later for more of a tie-dyed effect Hamantaschen
Add a teaspoon of your filling(s) of choice to the center of each dough round and pinch the three corners in to form the cookie. Repeat until you have used all the dough.
Bake cookies for about 12 to 14 minutes or until lightly browned on the bottom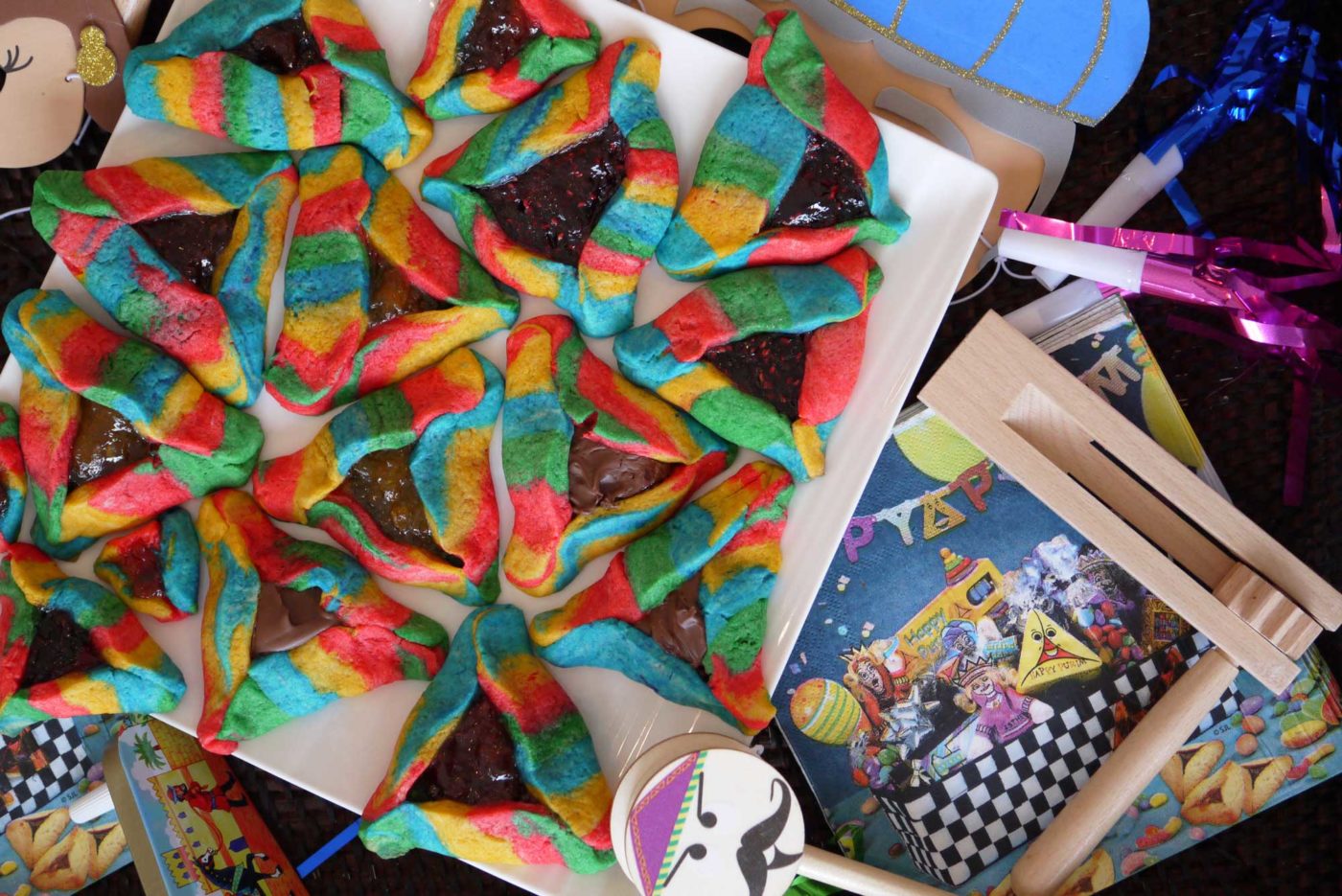 Notes
You can freeze the unused layered dough. When ready to use, let sit out of freezer for a few minutes before slicing and rolling out. You can also freeze the shaped and filled cookies - when ready to bake, move directly from freezer onto parchment-lined cookie sheet and bake them at  350 degrees F for 16-18 minute or until lightly browned on the bottom.