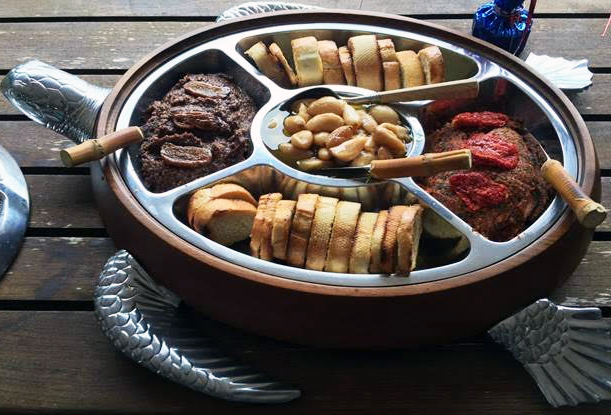 This is a delicious appetizer for easy entertaining. It can be made up to two days ahead and served at room temperature. It pairs deliciously with the Fig and Olive Tapenade and can be served with toasted baguettes. You can also serve with roasted garlic cloves for a delicious flavor accent!
Ingredients
1/2 cup basil leaves, packed (or use about 1/4 cup frozen basil, basil pistou, or purchased basil pesto. Use more basil if you have a surplus!)
1/2 cup flat-leaf or curly parsley, packed
2 T olive oil (or more as needed)
1/2 cup slow roasted tomatoes (or use 1 can organic tomatoes, well drained)
1 cup purchased sun-dried tomatoes
2 T minced garlic (or more)
1/4 cup finely grated parmesan cheese (or more)
1 T tomato powder (optional, but a nice addition or you could add 2 T tomato paste)
1 T white balsamic vinegar (or white wine vinegar)
salt and fresh ground black pepper to taste
Instructions
Combine all ingredients and pulse in a blender or food processor until desired consistency is reached.