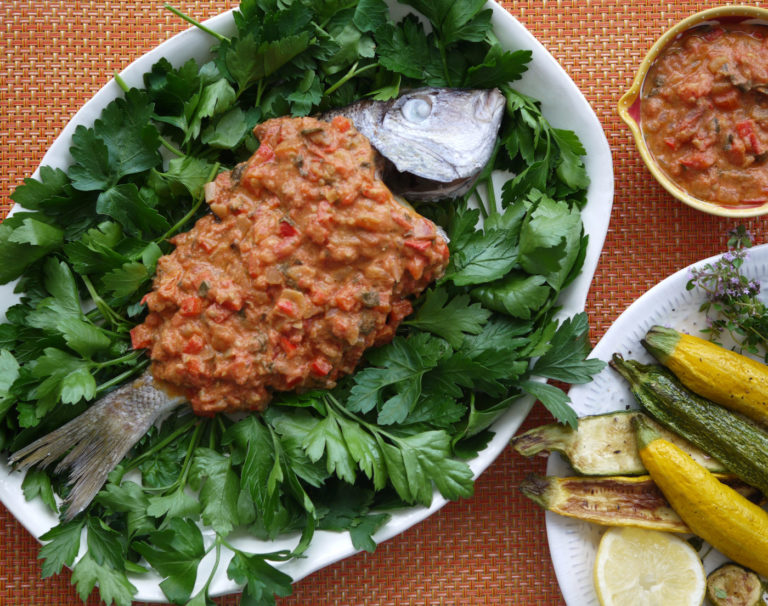 Make your Shabbat table or your Succot spread extra beautiful with Samkeh Harra, a Lebanese fish dish full of flavor and a nice spicy kick.
The Harra sauce is great on any fish but in particular with nice white flaky fish like Red Snapper, Porgy/Scup or even Halibut. Be sure to serve extra sauce on the side to make sure everyone gets enough! Click here for our other Lebanese recipes.
Serves 4
Ingredients
For Harra Sauce:
Make the sauce first so you will have it ready to go when the fish comes off the grill or out of the broiler.
2 tbsp olive oil
1 red onion, finely chopped
2 cloves garlic, minced
1 green Thai chile, finely chopped
2 red peppers, cored and finely chopped
1 large fresh tomato (about 1 cup), finely chopped
1 tsp coriander powder
2 tsp salt
1/2 tsp white pepper
2 tbsp cilantro, roughly chopped
2 tbsp fresh parsley, roughly chopped
1/4 cup tahini
1/2 cup - 1 cup water to thin out sauce to desired consistency
For the Fish:
2 lbs whole fish or 1-1/2 pounds of fillets (2 porgy or scup or 1 red snapper are good choices)
juice of 2 lemons + extra wedges for garnish
1/4 cup olive oil
1 tsp salt
2 tsp cumin
1 tsp white pepper
Instructions
Make the Sauce:
Heat a large cast iron pan, add olive oil and sauté onion on medium-low until onions are slightly translucent
Add garlic, chile and the spices to the pan and cook for a minute or so
Turn stove up to medium heat and add the diced peppers and tomatoes to the pan. Cook for 2-4 minutes until peppers are soft
Stir in fresh cilantro, parsley and tahini
Add water for desired consistency
Taste and adjust seasoning if necessary
Cook the Fish and Plate with Sauce:
Brush fish with olive oil, squeeze lemon juice all over and season with spices
Grill or broil smaller fish like scup 4-5 minutes each side and larger fish like Snapper, 8-10 minutes each side
Move cooked fish to a platter and spoon Harra Sauce over the fish
Garnish with lemon or lime slices and sprigs of parsley
Notes
You can make the sauce ahead of time and just reheat it when you cook the fish.