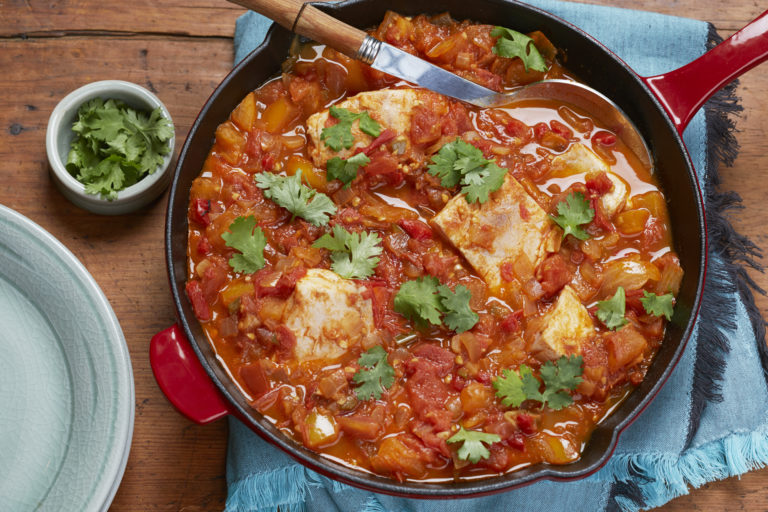 Chraime is a delicious Sephardic recipe comprised of white fish prepared with a tangy and spicy tomato sauce highlighted with smoked paprika and fresh cilantro on top. Chraime is traditionally prepared by Sephardic Jews (such as Moroccan Jews and Israeli Jews of North African origin) for Friday night Shabbat dinner, and for Rosh Hashanah and Passover. In some ways, it is the Sephardic culinary answer to the traditional Ashkenazi Gefilte Fish.
Serves 4
Ingredients
2 tbsp extra virgin olive oil
1 onion, finely chopped
1 lb skinless fish fillets (firm fish such as halibut, red snapper, cod)
2 large tomatoes, cored and diced
1 green chile or jalapeño, minced (more or less depending on how spicy you would like the dish)
1 roasted red pepper, diced (you can buy a jar of already roasted red peppers or char one in the broiler, remove the skin, veins and seeds and dice)
1 tbsp cumin
1 tsp smoked paprika
3 cloves garlic, minced
juice from 1/2 lemon
1-1/2 cups of water
handful of cilantro, rough chopped
salt & pepper to taste
Instructions
Heat cumin and paprika in a hot heavy-bottomed pan for a minute until you can smell their aroma.
Add olive oil to pan and turn heat to medium-low.
Sauté onions until they are translucent.
Add garlic and sauté for about a minute.
Add tomatoes, hot pepper, roasted red pepper, lemon juice and water to pan. Bring to a boil and then turn down to simmer for 5 minutes.
Add fish, cover pan and cook for 5-8 minutes or until fish is opaque.
Add salt and pepper to taste.
Turn off heat, add fresh cilantro and serve.
Notes
Tip: You can make the entire dish 1 or 2 days ahead except the fish and then reheat the cooked ingredients and add fresh fish.