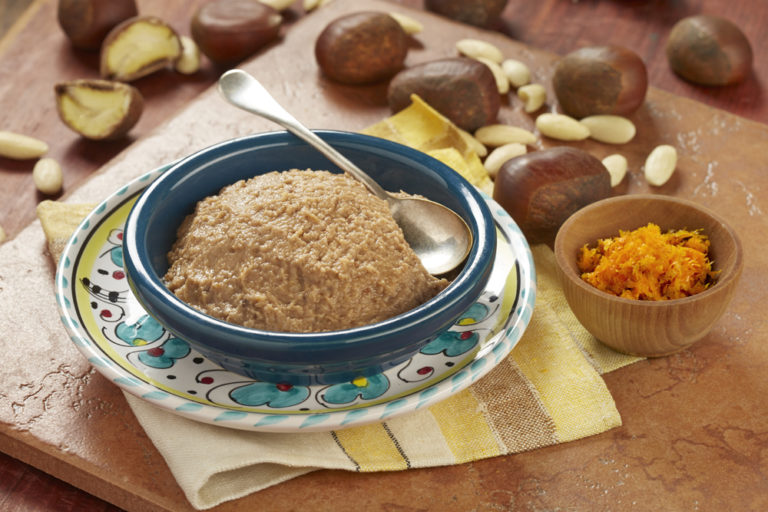 The Northern region of Italy, the Piedmont, is surrounded on three sides by the Alps. This region is dotted with nut trees, especially chestnuts. This recipe is rich with chestnuts and other nuts and brings to mind "chestnuts roasting on an open fire."
Explore our other international charoset recipes here!
History:
The main Jewish settlements in Piedmont began in the 15th century and consisted of Jews who escaped persecution in Eastern France. These Jews escaped a few decades after the Spanish persecutions, when in 1492 the Catholic King and Queen of Spain Ferdinand and Isabella forced all Jewish and Arab subjects to convert, flee or die on the stake.
Many Jewish families were forced to leave their homes between 1941 and 1943, and lived in the country or in the mountains until the Liberation of the North of Italy in late April 1945. They were concealed by Italian families or by groups of partisans who took the life-threatening risk of hiding Jews.
Despite this, all the Piedmontese Jewish Communities lost a very high number of members in the Nazi-fascist persecutions and deportations. Some of the smaller communities never recovered and closed their Synagogues after the War. This recipe is our attempt to honor their spirit.
Makes approximately 2 1/2 cups
Ingredients
1½ cups cooked chestnuts
⅔ cup blanched almonds
2 hard boiled egg yolks
zest of 1 orange
juice of 1 orange
⅓ cup sugar
¾ cup sweet red Kosher wine, such as Manischewitz
Instructions
Grind the almonds fine in the food processor, then add the rest of the ingredients and blend to a paste.