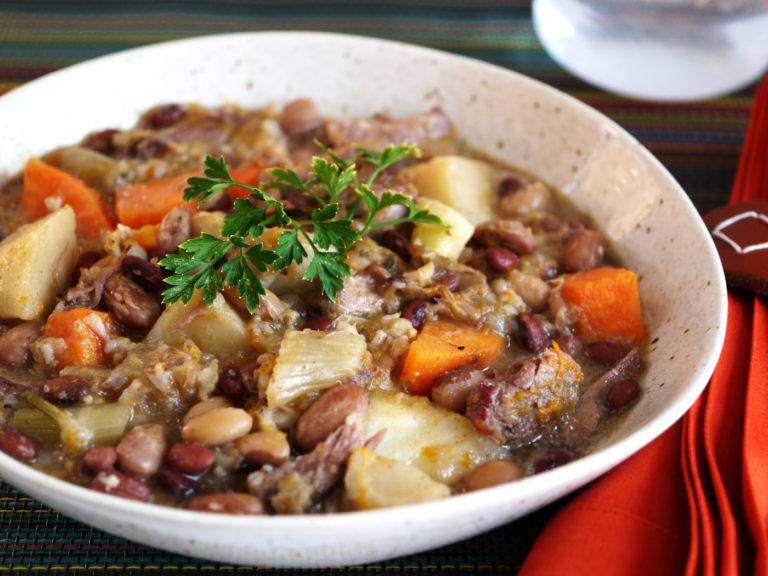 Necessity is the mother of invention which accounts for Cholent, a dish you can create ahead of time so you can easily follow the Jewish law of not cooking on the Sabbath.
Braised low and slow for 14+ hours, Cholent is the ultimate comfort food. Our version has tender brisket, beans and barley along with white potatoes, sweet potatoes and onions. A bouquet of fresh herbs adds another layer of flavor we think you'll find irresistible. We hope you will love our favorite Shabbat dish and share it with your loved ones.
Serves 6-8
Ingredients
2 large sweet onions, peeled, roughly chopped and divided (1 roasted, 1 raw for slow cooker)
3 lbs short ribs, cut into 4" pieces
1 large sweet potato, peeled and roughly chopped
2 medium size potatoes, peeled and roughly chopped
2 large carrots, peeled and roughly chopped
1 bulb fennel, roughly chopped and divided (1/2 roasted, 1/2 raw in slow cooker)
1-1/2 cups dried beans (mixed or one type - recommend kidney, lima or heirloom beans), soaked overnight in filtered water
1 cup barley
1 tbsp cumin
1 tbsp salt +

 

extra for seasoning the meat before roasting
1 tsp freshly ground pepper
herb bundle: 3-4 sprigs of rosemary and 6-8 sprigs thyme, tied up in cheesecloth
water to cover ingredients in slow cooker
Instructions
Roast Meat and Vegetables:
Preheat oven to 450 degrees
Season your meat generously on both sides with salt and add to a large rectangular baking dish (glass or roasting pan)
Nestle in your chopped vegetables: 1 onion, 2 carrots and 1/2 bulb fennel
Roast for 20 minutes on one side, flip meat and toss vegetables. Roast for 10 more minutes
Remove meat and vegetables, put your pan over a burner and add 2 cups of water to deglaze the pan. Let the liquid reduce over medium heat for about 4-5 minutes then set aside
Fill Slow Cooker:
To your slow cooker, add beans and barley and raw chopped vegetables: 1 onion, 1/2 fennel bulb, 2 potatoes and 1 sweet potato
Add your roasted meat and vegetables
Add your herb bundle, cumin and salt
Add the reduced stock from your pan
Cover ingredients with water and set your slow cooker for 14-16 hours
If there's too much liquid for your liking, use a slotted spoon to plate your dish. Also, once you refrigerate the leftovers, the stew will thicken
Notes
If you have leftovers, you can freeze them. Simply reheat straight from the freezer when you're ready to eat.