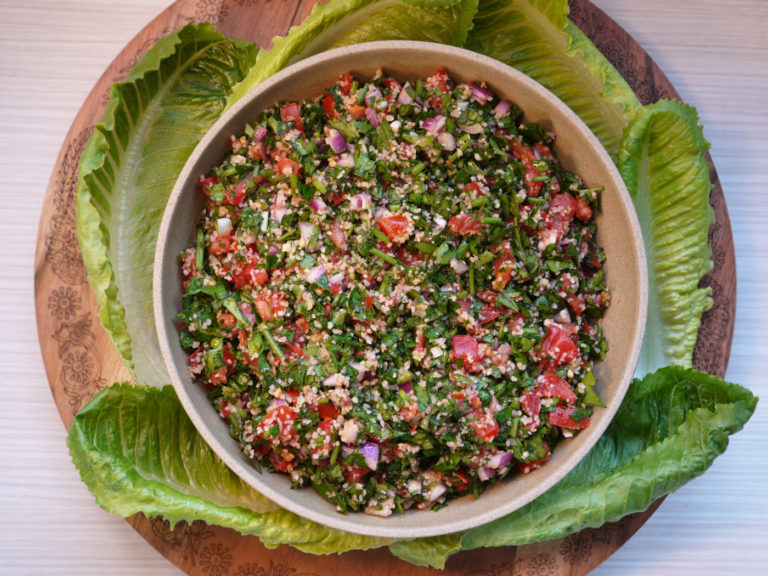 A Lebanese classic that we can't get enough of, Tabbouleh is a tasty addition to your Shabbat luncheon and Succot celebration. Scoop it up with romaine lettuce and simply enjoy, serve it as a side with your favorite entree or put some in a Pita pocket with Kafta and Tahini Sauce.This is a vegan dish. Click here for our other Lebanese recipes.
Ingredients
1/4 cup fine bulgur, rinsed
1/3 cup fresh lemon juice
2-3 medium tomatoes, finely chopped and drained (about 3 cups)
4 cups fresh parsley, chopped
1/2 cup fresh mint, finely chopped
1/2 cup red onion, finely chopped
2 tbsp olive oil
1 tsp cumin
1 tsp salt

 

pepper to taste
romaine leaves for serving
Instructions
Add bulgur and lemon juice to a bowl, stir together and let sit until bulgur has absorbed the lemon juice (about 5 minutes)
Add your chopped tomatoes, parsley, mint and red onion to the bulgur
Add cumin, salt and pepper, drizzle in olive oil and toss
Plate with romaine lettuce leaves which can be used as a serving device for the Tabbouleh
Notes
The tomatoes will continue to generate liquid when you assemble the salad so if you want to avoid too much juice in the bottom of your salad bowl, keep the salad in a strainer until serving.