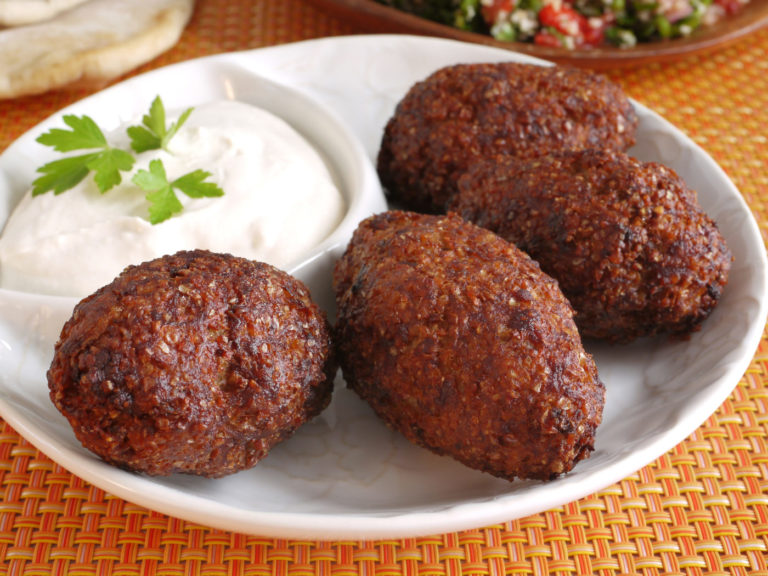 Crunchy on the outside, meaty on the inside, Lebanese 7-Spice Kibbeh are an addictive snack as is or with a nice dip in Tahini Sauce and some Tabbouleh and Israeli Salad on the side. My family and I just love Lebanese food. This is the perfect dish for your Shabbat dinner or Succot celebration. Click here for our other Lebanese recipes.
Makes 24 Kibbeh
Ingredients
For the "Shell":
1-1/2 lbs ground beef
1-1/2 cups fine bulgur, rinsed
1 large onion, finely chopped
2 tbsp lemon juice
1 tbsp olive oil
2 tsp salt
1 tbsp Lebanese 7-Spice* (you can also use a combination of cumin and smoked paprika)
For the Filling:
1 tbsp extra virgin olive oil
1/2 lb ground beef
1/2 small onion, finely chopped
1 tbsp lemon juice
1 tbsp pine nuts, toasted and roughly chopped
1 tsp Lebanese 7-Spice* (you can also use a combination of cumin and smoked paprika)
1 tsp salt
For Frying:
vegetable oil or coconut oil
*Lebanese 7-Spice: There are variations on what the 7 spices are but the blend we used contained: allspice, pepper, cinnamon, cloves, nutmeg, fenugreek and ginger
Instructions
Make "Shell":
Soak bulgur for 30 minutes in cold water then strain
Put bulgur, 2 tsp lemon juice, 1-1/2 lb ground beef, onion, 2 tsp salt & seasoning in the bowl of a food processor until ingredients are full combined and form into a ball
Set aside or refrigerate until ready to fill
Make Filling:
Heat sauté pan over heat and add extra virgin olive oil

Add onions and sauté until soft and translucent

Add 1/2 lb ground beef, salt and spices and sauté until beef is cooked through

Take off heat and stir in lemon juice and pine nuts

Cook a tbsp size of the filling in a sauté pan to taste and adjust seasoning if needed
Form the Kibbeh:
Take about 2 tbsp of "shell" mixture and form it into a football shape

Make a hole with your thumb, stuff some filling inside and close up the football shape. Repeat until you have used all the mixture. You should have about 2 dozen kibbeh

You can cook them immediately but it helps to chill them in the refrigerator for about an hour first to ensure they hold up well when frying
Fry the Kibbeh:
Heat about 2" of oil in a heavy bottomed pot to 350 degrees. Be sure to have a pan at least 5-6" high so the oil doesn't splash out of the pan

Carefully lower 2-3 kibbeh at a time in the oil and cook for 3-4 minutes, turning occasionally for even frying. They should be a nice deep brown color

When ready, carefully remove from oil with slotted spoon and place on a paper towel to remove some of the oil. Best enjoyed fresh out of the fryer!
Notes
You can freeze your kibbeh before frying on a flat surface then stack in a container or freezer bag. When you're ready to cook them, remove from freezer and fry without thawing in 350 degree oil for about 4-5 minutes.