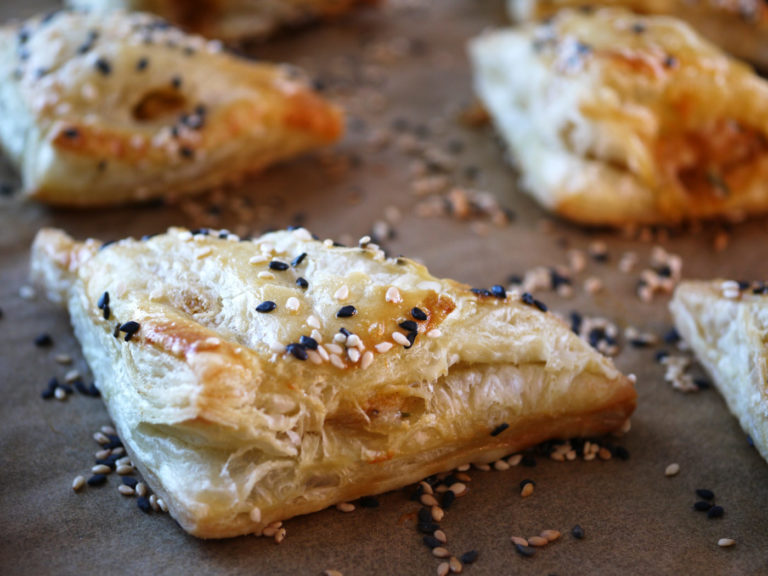 Imagine the most delicious mashed potatoes you've ever eaten wrapped in crunchy, flaky dough. That's what you can look forward to when you enjoy this tasty Turkish snack. Potatoes and leeks are a classic combination in soup and we thought they'd succeed in bourekas as well which they certainly do!
Bourekas are the perfect part of your Succot celebration or a highlight of your Shabbat meal. For another delicious filling, try our Spinach & Feta Bourekas.
Makes 18 Bourekas
Ingredients
1 potato (about 10-12 oz), peeled & roughly chopped

2 tbsp butter (or olive oil) + extra if needed to smooth out potato mixture

1 leek, finely chopped (white part only), about 1/2 cup

1 tsp paprika

1 tsp cumin
pinch of cinnamon

1/2 tsp salt

1 clove garlic, minced

2 tsp fresh rosemary, very finely chopped (optional)

1 pound puff pastry sheets

flour for rolling out puff pastry (or roll pastry between parchment or plastic wrap sheets)

1 egg, beaten with 1 tsp water

2 tbsp sesame seeds (mix of black and white makes nice presentation)
Instructions
Make the Filling:
Place potato in a pot. Cover with water and add 1 tsp of salt

Bring to a boil, lower heat and simmer on medium-low for about 15-20 minutes or until you can easily insert a knife into the potato

Strain potato and roughly chop. Set aside

Heat a skillet on medium heat and add butter to pan

Add leeks, spices and salt and sauté until leeks are soft and translucent (about 3-5 minutes)

Add garlic and fresh rosemary to pan and sauté for about 1 minute

Add chopped potato to pan and toss with other ingredients for 1-2 minutes

Mash the potato mixture by hand or pulse in a food processor until combined (doesn't have to be perfectly smooth). Add a little extra butter or olive oil if mixture seems too dry

Taste and adjust seasoning if needed

You can store the filling for 2-3 days covered in the refrigerator
Roll, Fill, Fold & Bake:
Preheat oven to 350 degrees.

Remove 1 pastry sheet at a time from freezer and let thaw about 5 minutes on your countertop. Just until you can gently unfold the pastry sheet

Sprinkle flour on countertop and roll out puff pastry into approximately a 10" x 10" square. Alternatively, you can avoid the flour and keep your counter clean by rolling out the pastry between sheets of parchment paper or plastic wrap

Using a pizza wheel or bench scraper, cut the pastry into 9 squares

Place a tablespoon of the potato filling a little off center toward one corner of each square. With your fingertip or a brush, apply a little water around the edges of the square. Fold over the pastry into a triangle and seal the edges with your fingers or the tines of a fork. Place each finished boureka on a parchment lined baking sheet. Repeat for all 9 squares and place in refrigerator or freezer while you roll out the second sheet of puff pastry and make your second batch of bourekas.

If you have a little leftover filling, enjoy it as a side dish with dinner!

At this point, you can either bake your bourekas or freeze them in a single layer then store them in a container or freezer bag

To bake, brush each boureka with egg wash and sprinkle with sesame seeds

Place your bourekas on a lined baking sheet and bake at 350 degrees for 20-25 minutes or until the bourekas have puffed up and lightly browned. Best enjoyed warm out of the oven
Notes
If you freeze the bourekas, when you bake them, remember to brush them with an egg wash and top with sesame seeds. Preheat the oven to 350 and bake for about 30-35 minutes or until bourekas have puffed up and are lightly browned.