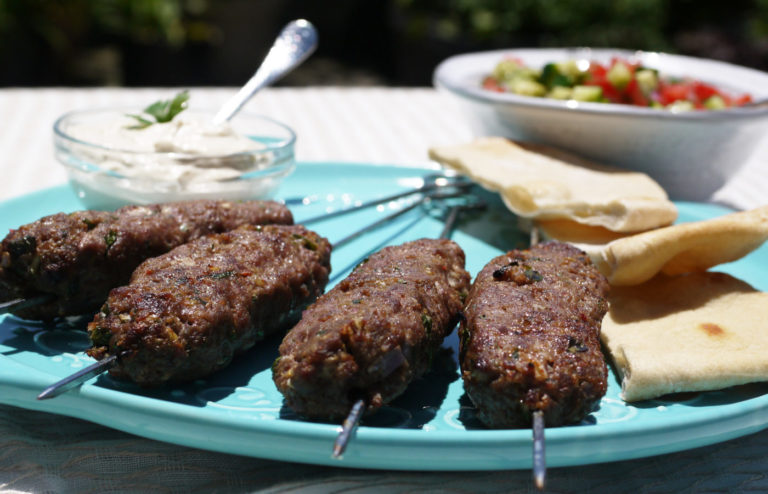 Whenever we make Lebanese Kafta for guests, the skewers disappear within minutes! Our secret to keeping them nice and moist is to add a little apple sauce to the lamb mixture. Serve with Tabbouleh, Fattoush or Israeli Salad, Tahini Sauce and Pita.
Kafta is a perfect dish for your Shabbat dinner or Succot celebration. For our full Lebanese menu, click here.
Makes about 12-14 kebabs depending on size of patty
Ingredients
1-1/2 lbs ground lamb
1/2 cup apple sauce
1 bunch scallions, finely chopped
1/2 cup fresh mint, chopped
2 tbsp Lebanese 7-Spice* (or you can use cumin & smoked paprika)
juice and zest of 1 lemon
1/2 red onion, finely chopped
1 tbsp olive oil
salt & pepper to taste
*Lebanese 7-Spice: There are variations on what the 7 spices are but the blend we used contained: allspice, pepper, cinnamon, cloves, nutmeg, fenugreek and ginger
Instructions
Mix all ingredients in a large bowl and form into rectangular patties, slightly flattened to ensure they cook through. Cover with plastic wrap and refrigerate for a minimum of 30 minutes (you can make several hours ahead)
When ready to grill or broil, remove from refrigerator, skewer each patty and brush each with a little olive oil so it doesn't stick to the grill or pan
Grill or broil 4 minutes each side or until meat is cooked to your liking
Notes
If you use wooden skewers, avoid burning them while cooking by soaking them for a few hours in water and/or cover the part of the grill or broiler where the skewers will rest with tin foil.