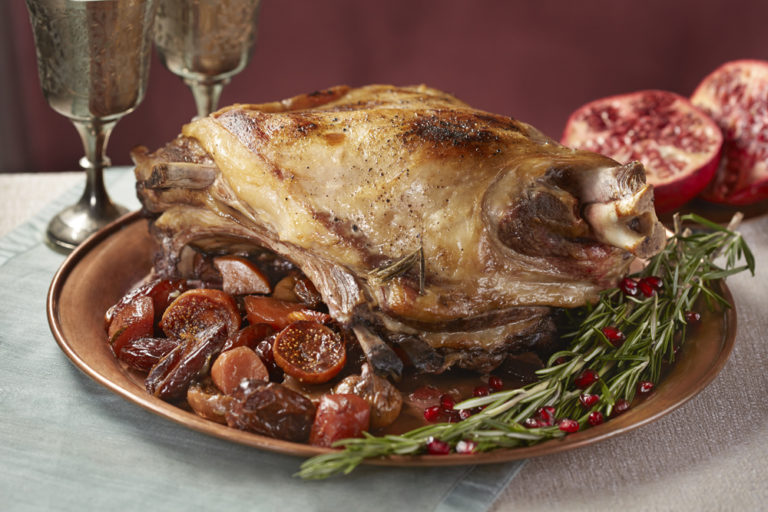 I was inspired to make this recipe in order to celebrate the Food of Freedom as discussed in the Torah. Pesach is the ritual lamb sacrifice that the Israelites were commanded to offer. The blood of the Pesach was placed on their door and was the signal for the angel of death to "pass over" their home. This was the public sign that they were Israelites and were about to escape their slavery.
After 40 years in the wilderness, the Israelites were about to enter The Promised Land. They dreamed about the food of the Promised Land – pomegranates, dates, figs, and honey. Incorporating all these delicious ingredients into a Passover lamb dish is a nod to the foods of the Israelites' fantasies, and also makes the connection between the journey of our ancestors and our own journey to freedom, which we celebrate during the Seder meal.
Serves 8-10
Ingredients
14 lb lamb shoulder (bone in - ensure there is fat on lamb as that keeps meat moist while braising)
2 tbsp olive oil
2 large onions, peeled and rough chopped
6 carrots, peeled and rough chopped
6 celery spears, rough chopped
2 cups Manischewitz wine
4 cups beef stock
4 sprigs fresh rosemary plus extra for garnish
salt & pepper to taste
1 lb dates, pits removed (approximately 2¼ cups)
1 lb dried figs, halved (approximately 2¼ cups)
1 cup pomegranate molasses
¼ cup honey
1 cup pomegranate seeds
Instructions
Preheat oven to 325 degrees.
Rinse lamb, pat dry and season generously with salt and pepper.
Heat large roasting pan on medium heat over two burners and add olive oil. Brown lamb on all sides, remove from pan and set aside.
Add onions, carrots and celery to the pan and cook on medium heat until vegetables are slightly softened (about 5 minutes).
Add wine to pan, bring to boil then simmer until reduced by half (about 8 minutes).
Add beef stock and rosemary to pan. Bring to a simmer then remove from heat.
Nestle lamb back into the pan, cover roasting pan tightly with aluminum foil and braise in preheated 325 degree oven for 3 hours.
After 2-1/2 hours, add figs and pitted dates to the braising liquid and braise for 30 more minutes covered with the aluminum foil.
Take roast out of the oven. Remove lamb from braising liquid and set aside, tented with foil to keep warm.
Put roasting pan back over 2 burners on medium heat and reduce braising liquid by half (about 10 minutes).
Stir in pomegranate molasses and honey and simmer for 5 more minutes.
Strain braising liquid and serve as gravy. Reserve carrots, figs and dates to serve alongside lamb and discard rest of ingredients.
Serve lamb garnished with fresh rosemary sprigs and pomegranate seeds.