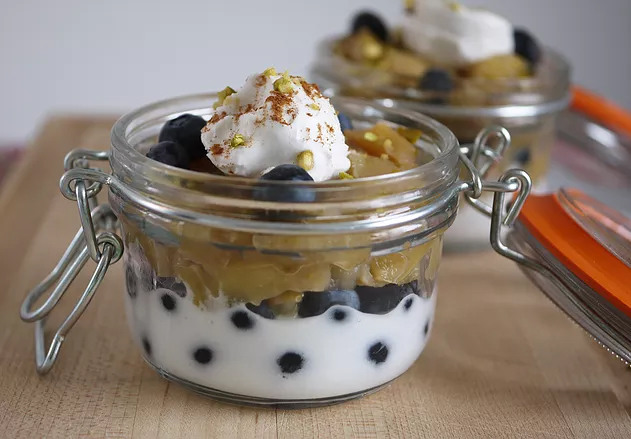 The smell of apples and cinnamon cooking on the stove fills the kitchen with wonderful smells. Not a grain of sugar or sweetener is added to this dessert and you won't miss it. The natural sweetness of the apples and blueberries are more than enough to satisfy any sweet tooth.
Serves 8
Ingredients
10 apples (granny smith, honey crisp or your favorite variety), peeled, cored and roughly chopped
fresh blueberries
plain or vanilla unsweetened coconut yogurt
cinnamon
chopped pistachios
1/2 cup water
Instructions
Place apples and 1/2 cup water in a stockpot with a heavy bottom and cook on medium-low heat until the apples soften to your liking - about 20 minutes
Layer your trifles! Start with a thin layer of coconut yogurt on the bottom, two rows of fresh blueberries, a generous layer of cooked apple, a few more blueberries and a dollop of coconut yogurt with cinnamon and a few chopped pistachios
NOTE: You can cook the apples ahead of time and keep in the refrigerator for 3-5 days.