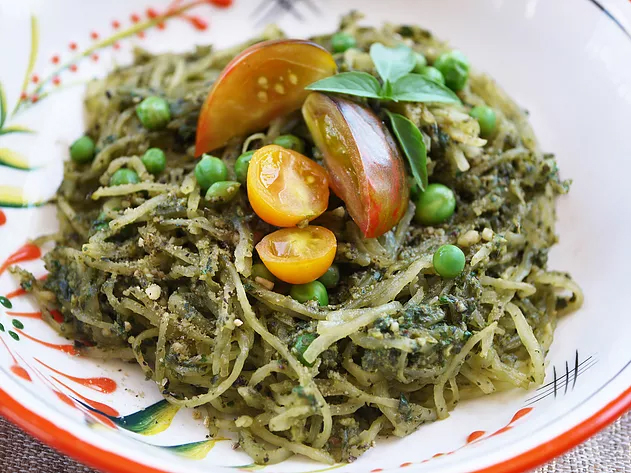 Who put the spaghetti in spaghetti squash? With a natural spaghetti texture that holds sauce almost as well as the finest Italian pasta, we don't know why this squash exists but we are grateful. If you are gluten intolerant or just prefer a vegetable to pasta with your sauces, spaghetti squash is the perfect alternative.
Serves 8
Ingredients
3 large spaghetti squash, cut in half lengthwise (1 large spaghetti squash yields about 2-1/2 - 3 cups "spaghetti")
1 cup walnuts, lightly toasted in oven or on stovetop
4 cups of packed fresh basil plus extra for garnish
2 cups of kale, stems removed
2 cloves garlic, roughly chopped
juice of 1 lemon
1/2 cup extra virgin olive oil
salt and pepper to taste
2 packages of  frozen peas, warmed on stove and strained
6-8 cherry tomatoes, quartered
1/4 cup Rawmesan (or pulse in a food processor – your favorite nuts, sesame seeds, nutritional yeast, dried herbs and salt), plus extra for garnish
Instructions
Preheat the oven to 350 degrees
Roast the squash whole for 1 to 1-1/2 hours at 350 degrees or until you can insert a knife very easily in the flesh
While the squash is cooking, make pesto by putting the walnuts, basil, kale, garlic, lemon juice, Rawmesan, salt and pepper in a food processor and purée (you may need to do this in batches). While machine is going, drizzle in olive oil until your pesto has a nice smooth consistency. Taste and add more salt and pepper if needed
When squash are ready, cut each one in half lengthwise, remove the seeds and flake the "spaghetti" out with a fork
Toss the spaghetti squash with the pesto. For even distribution, spoon in a few tablespoons of pesto at a time
Make individual plates of the spaghetti squash and pesto mixture and sprinkle a little more Rawmesan and pepper on top (you can also serve a family style platter)
Garnish with a few fresh cherry tomato wedges, some peas and a sprig of fresh basilNOTE:  This dish can be served hot or room temperature.