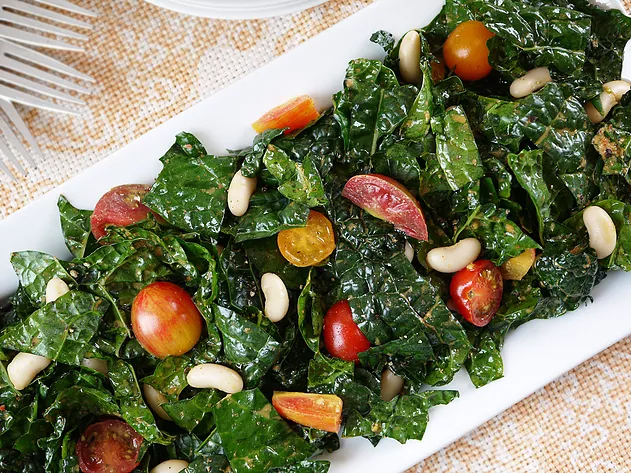 Kale is a nutrition king. You can "massage" kale so that it breaks down a little and is easier to eat raw. The Ashram Dressing recipe makes much more than needed for the salad but it makes a delicious dip which can be served on the side if people want extra or with crudité for a snack.
Serves 8 plus extra dressing for dip
Ingredients
4 large bunches of kale
1/4 cup olive oil or coconut oil
juice of 1 lemon
1/2 tsp sea salt
4 cups local heirloom cherry tomatoes, halved or quartered
1 cup cannellini beans, drained and rinsed
Ashram Dressing (makes about 2 cups):
1/4cup pumpkin seeds
1/4cup walnuts
1 red bell pepper, cored, seeds removed and rough chopped
2 tbsp almond butter
2 tbsp flaxseed oil
1 tsp ume plum vinegar (Eden brand)
2-1/2 tbsp nutritional yeast
1-1/2 tbsp chipotle powder
1/2 tsp paprika
1 tbsp coconut amino
1 tsp cumin
1-1/2 tsp sea salt
1/3 cup water
3 tbsp lemon juice
Instructions
Mix all Dressing ingredients in blender and chill
Wash and dry kale, remove stems and break into bite-size pieces
Add kale to large bowl and add olive oil, lemon juice and salt
Massage the kale with your hands for a couple of minutes. You will see that the kale starts to break down and shrink in volume
Toss massaged kale with the dressing 1 tbsp at a time until desired coverage
Garnish with white beans and sliced tomatoes. Serve immediately
NOTE: You can make the dressing ahead of time and refrigerate. You may need to add a bit of water or olive/coconut oil to thin it out a bit.