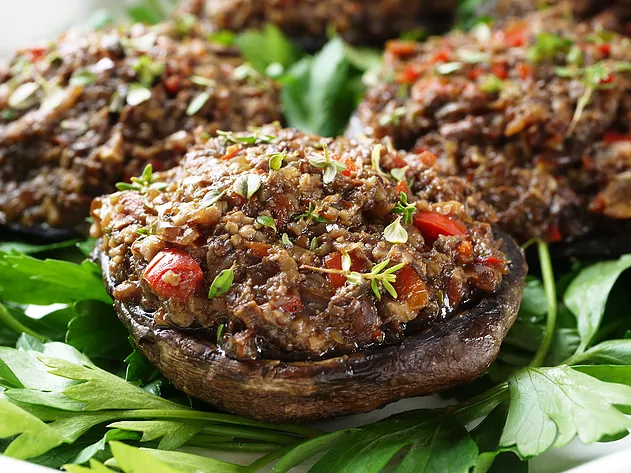 If you want a "meaty" dish without the meat, these Portobello mushrooms will surely satisfy. Enjoy an umami extravaganza! The fresh thyme brightens the dish and adds a hint of color along with the red peppers.
Serves 8-10
Ingredients
2 tbsp coconut oil for cooking
1 tbsp coconut oil to mix with garlic purée to coat portobello mushrooms
1 cup shallots, finely chopped
3 cloves garlic, minced
1 additional clove, mashed with 1 tbsp olive oil for coating portobello mushrooms (as mentioned above)
8-10 large portobello mushrooms, wiped clean and gills removed (to fit the stuffing)
1 cup of dried porcini mushrooms, reconstituted in hot water, drained and finely chopped
4 cups mixed mushrooms, wiped clean and finely chopped (we used shiitake, cremini and Hen of the Woods mushrooms)
1 red pepper, seeds and veins removed and finely chopped
1 chile pepper, finely chopped (remove seeds if you don't want spicy)
1/2 cup vegetable stock
2 tbsp coconut aminos
juice of 1/2 lemon
salt and pepper to taste
2 tbsp fresh thyme, stems removed and finely chopped (plus extra for garnish)
Instructions
Preheat oven to 375 degrees
Rub puréed garlic and olive oil all over portobello mushrooms and set aside. Or, if you want a bit of a smoky flavor, grill the mushrooms for about 1 minute each side
In sauté pan, cook shallots in coconut oil on medium-low heat until transparent
Add garlic and sauté for 1 minute
Add peppers and mushrooms and sauté 2-3 minutes
Add vegetable stock, coconut aminos and lemon juice
Season to taste with salt and pepper
Cook on medium heat until liquid evaporates, 3-5 minutes
Take off heat and stir in fresh thyme and adjust seasoning if necessary
Spoon mushroom mixture into the portobello mushrooms and bake 10-15 minutes
Serve with fresh dried thyme leaves sprinkled on top
NOTE: You can make the stuffing ahead of time and store in airtight containers in the refrigerator for 2-3 days before making the Stuffed Portobello Mushrooms.