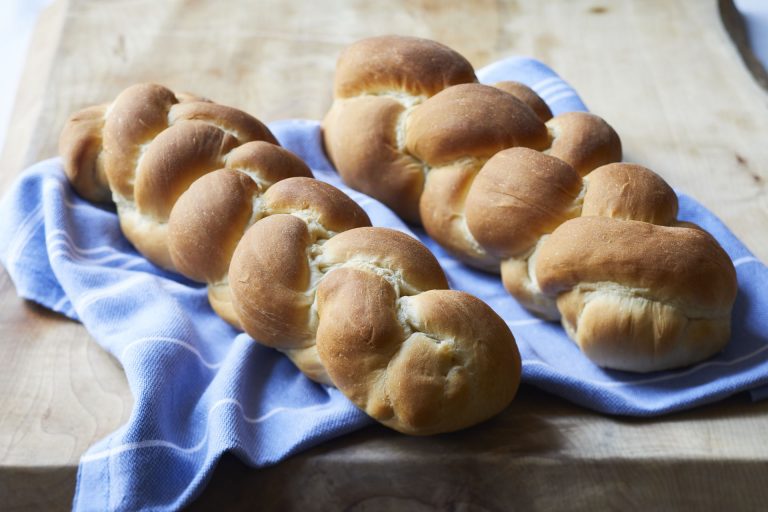 I first fell in love with the magic of challah when my uncle Rabbi Daniel Goldfarb made homemade Challah for my brother Laurence's Bar Mitzvah. My uncle flew from Israel for my Bat Mitzvah as well as for each of my brothers. He always baked the Challah for our Shabbat dinner. It really tasted so delicious and I fully appreciated the love with which he baked it.
We're so happy to bring our Challah recipe to all of you. There's nothing like the smell of fresh Challah bread baking in your oven. While making bread can seem daunting, we have created a step-by-step recipe and video to make it easier for you to master making and braiding a 4-strand Challah. Take your time and you'll soon be an expert!
Makes 2 Loaves
Ingredients
1 cup warm water
1 tbsp plus 1 tsp yeast
¼ cup honey
5 cups of all purpose flour (plus extra for dusting work surface and kneading dough)
3 whole eggs
1 tbsp salt
¼ cup vegetable oil plus extra to oil the bowl for your dough
1 egg white (for glaze)
Instructions
Make the Dough:
In a mixing bowl combine the water, yeast and honey. Stir and let sit for a minute to activate the yeast.
Mix eggs and flour in and stir until the ingredients start to come together (you can also mix using a dough hook attachment on your mixer).
Add salt and vegetable oil and continue to mix with a wooden spoon until dough forms a ball.
Turn dough out onto lightly floured surface. Knead the dough, adding small amounts of flour if dough is too sticky, making 1/4 turns for 6-8 minutes until the dough is smooth and not sticky (don't knead to the point the dough rips).
Place dough in an oiled bowl, cover, let rise in a warm area for 1 to 1-1/2 hours until dough doubles in size.
Braid the Challah
(for 1 loaf): Note: You can practice this technique with ribbons or string first if you're a little nervous. It's easy once you get the hang of it.
Once the dough has risen, punch it down and divide in half to make your first loaf (NOTE: If not making the second loaf right away, put back in oiled bowl, cover and place in refrigerator*).
Divide your dough into 4 equal pieces, about 4 oz. each.
Roll strands into equal-length cylinders.
Pinch strands together at one end.
Take strand on far left, bring over two strands then weave the strand under the strand to your left.
Take strand on far right, bring over two strands and weave the strand under the strand to your right. Repeat until whole loaf is braided.
Tuck loose ends at end of braid underneath and pinch to keep in place.
Place the loaf on a parchment-lined baking sheet, cover loosely with a kitchen towel, let rise in a warm area for 1/2 hour.
Bake the Challah:
Preheat oven to 350 degrees.
Brush egg white glaze on top of loaf (optional: sprinkle sesame seeds or poppy seeds on top).
Bake for 30-35 minutes, turning loaf once at 20 minutes to ensure bread bakes evenly.
Loaf is done when golden brown.
Notes
We doubt you will have any leftover Challah in your house but if you do, use it to make delicious French toast or our
Chocolate Challah Bread Pudding
.