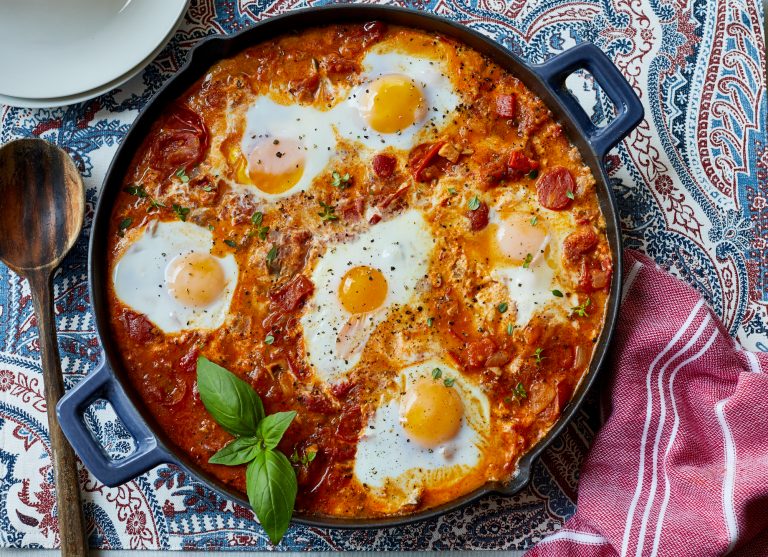 I have always loved Shakshuka. It is such a delicious and healthy breakfast. On my recent trip to Israel, I realized we NEEDED to add Shakshuka to Breaking Matzo.
I landed off the red eye flight and checked into the Dan Tel Aviv around 9 a.m. I went for a walk on the beach and stopped at a seaside restaurant. I ordered Shakshuka and when I looked at the dish on my table and the Mediterranean only steps away, I knew that the time had come to bring shakshuka to Breaking Matzo.
This Tunisian dish is perfect for breakfast, lunch or dinner. Typically served family style, you can also make individual portions which look beautiful on the table. The spicy tomato sauce can be made well in advance so you can simply heat, drop in your eggs, toast some bread and you're ready to serve.
Serves 4
Ingredients
1/4 cup olive oil
5-6 eggs
1 large onion, peeled and finely chopped
5 lbs of your favorite tomatoes (we used a mix of heirloom and cherry tomatoes), rough chopped (you can leave cherry tomatoes whole)
2 cloves garlic, peeled and minced
1 hot pepper - jalapeño, habanero, etc (the more seeds you leave in, the spicier the dish)
1 cup of your favorite mushrooms, diced
1 large roasted red pepper (buy in a jar or roast a fresh pepper in broiler or on grill, remove charred skin, devein and chop into bite-size pieces)
1 tbsp smoked paprika
1 tbsp za'atar (an Israeli thyme, sumac & sesame seed blend available at specialty stores and online)
1 tsp cumin
pinch of cayenne pepper
2-3 sprigs of fresh thyme
salt & pepper to taste
Instructions
Heat a wide, heavy-bottomed skillet or Dutch oven on medium-low heat and add olive oil
Add onions to pan and sauté until they become translucent
Mix salt, pepper and other spices in with onions until spices are fragrant (about 1 minute)
Add garlic, let cook for 1-2 minutes. Watch carefully so it doesn't burn
Add mushrooms and hot pepper - sauté for another minute or so
Add tomatoes and roasted peppers to pan and cook on medium-low for 20-30 minutes until tomatoes have broken down and sauce has thickened a little (sauce may seem watery but it will set up once you take it off the stove for a few minutes)
Add more salt and pepper if needed
At this point, you could let the sauce cool and put it in the refrigerator or freezer until you are ready to use it. But if you want to make your Shakshuka right away, crack the eggs right into the heated sauce in the pan, spacing them apart from each other.
Cover the pan with a lid and let eggs poach on low heat for about 8 minutes, occasionally basting the whites with the sauce. The eggs are done when the whites are opaque
Adjust seasoning if needed
Garnish with fresh thyme and serve family style with crusty bread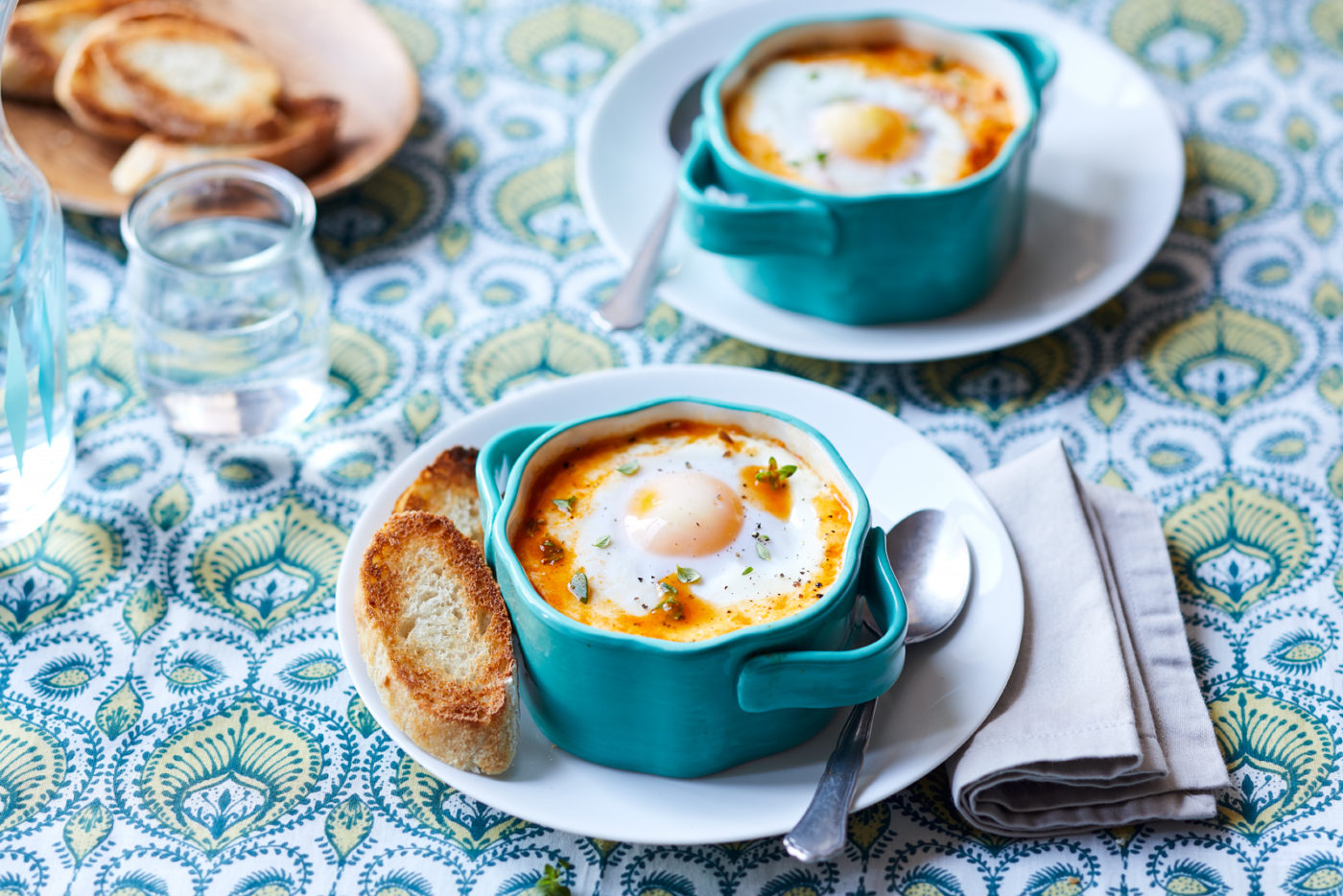 Notes
You can also make individual Shakshuka servings using small ramekins. It's a slightly different process. Spoon some of the heated sauce into the ramekins and crack 1 egg into each ramekin. Place the ramekins on a cookie sheet and put under the broiler for 2-3 minutes, until the eggs have set up to your liking.