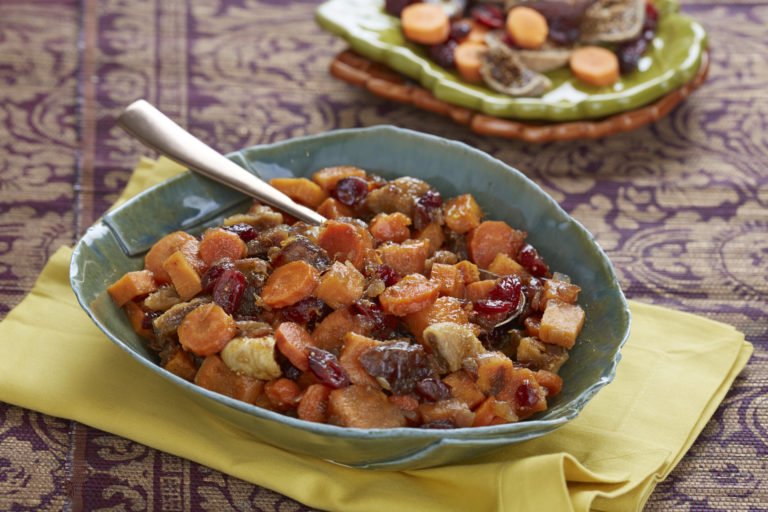 Tzimmes is eaten on Rosh Hashanah because it is sweet and symbolizes our hope for a sweet New Year.
This tzimmes recipe was inspired by my great aunts – Shang and Emma. They were sisters and lived together all of their life. They were wonderful cooks and always made this delicious Tzimmes for the Jewish Holidays. We add a New England flair by including dried cranberries and maple syrup in the dish.
New England flavors are part of our tzimmes recipe, colorfully illustrated on our kitchen towel. A nice addition to your Rosh Hashanah or Succot celebrations!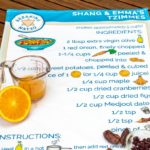 Shang & Emma's Tzimmes Recipe Towel
Makes approximately 5 cups
Ingredients
2 tbsp extra virgin olive oil
1 red onion, finely chopped
1-1/4 cups carrots, peeled and chopped into coins
1-1/2 cups sweet potatoes, peeled and cubed
juice of 1 orange (or 1/4 cup orange juice)
1/4 cup maple syrup
1/2 cup dried cranberries
1/2 cup dried figs
1/2 cup Medjool dates
1/2 tsp pepper
1/2 tsp cinnamon
pinch of salt
Instructions
Heat olive oil in a hot sauce pan then add red onion.
Cook onion on medium-low until soft.
Add carrots and sweet potatoes and cook for 1-2 minutes.
Add orange juice and maple syrup and cook for 5 minutes on low.
Add remaining ingredients and cook until you can pierce the carrots and sweet potatoes with a knife (about 5 more minutes).