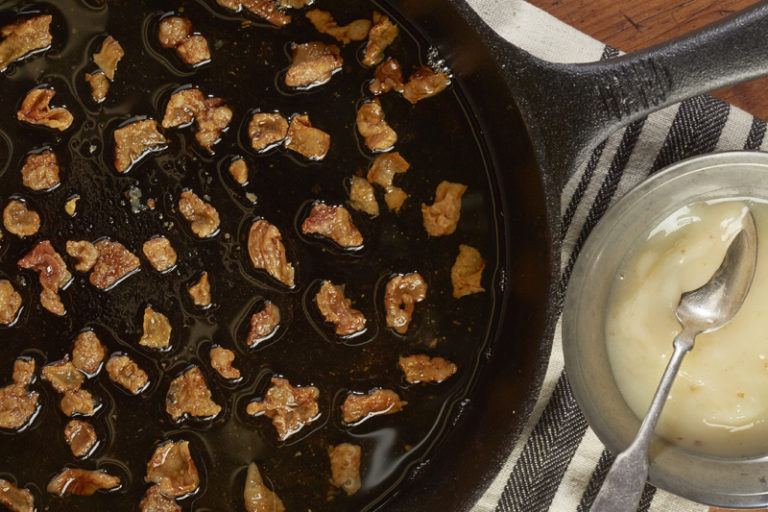 There is nothing that says Jewish cooking more than rendering your own chicken fat and making schmaltz! As a serious chef, I know that homemade schmaltz greatly enhances the taste of both my Chopped Chicken Liver and "Lucky" Matzo Balls.
What is Gribenes?
Gribenes are the crunchy brown bits of rendered chicken skin left in the pan after making schmaltz.
When I was a kid, my dad used to love making gribenes and schmaltz. My brothers and I used to fight over eating the crispy bits of gribenes. It was delicious. No matter how much schmaltz or gribenes I make today, there are never any leftovers.
Makes about 1/2 cup of schmaltz and 1/2 cup of gribenes
Ingredients
1 lb chicken fat
1 lb chicken skin (from whole chicken, legs, wings, etc)
Instructions
In a heavy bottom pan, render the fat and chicken skin on low heat for about 2 hours, stirring occasionally. You can also bake in oven at 250 for about the same amount of time. Just stir it every ½ hour or so.
Chicken fat will render down to schmaltz and chicken skin will crisp up and make gribenes which are delicious and a fun surprise in our Lucky Matzo Balls.
Variation: Once the fat and chicken skin has rendered down, you can sauté onions to add more depth of flavor.