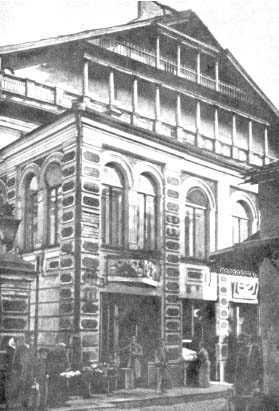 This blog post is near and dear to our Breaking Matzo team.  Founder Andy Goldfarb has recently discovered that both his maternal and paternal great-grandmothers, Anna Padowitz Rosen and Jennie Karnick, were both born in 1882 in Vilnius, capital city of Lithuania.
In addition, Breaking Matzo team members Paul Katz and his niece Rebecca Wiesman recently learned more about their family history in Svencionys, one of the easternmost towns of Lithuania. Their story appears here:
"I knew that my maternal grandmother (Rebecca's great grandmother) came from Vilnius. Only recently, when my cousin began her research on our family, did we learn more about my paternal grandfather's family. Unlike many of today's immigrants to America who celebrate their heritage, our grandparents didn't speak about their past. This was their coping mechanism: If you keep busy moving forward, you can disconnect from your memories.
My grandfather came from Svencionys, one of the easternmost towns in Lithuania. Svencionys had about 7,000 citizens. Half of the citizens were Jewish; the rest of the town consisted of minorities such as Cossacks, Russians, Poles, Gypsies, etc.  Thanks to Google Earth I can actually explore Svencionys. I see forests, streets and homes. I wonder that these may be the same streets where my grandfather and great grandparents' homes stood. In a way, I'm visiting with my family.
My grandfather, Sam, was one of 7 children of Shlomo and Freda. Sam and his siblings Sheina and Rose immigrated to America in the late 1910s to early 1920s. Jacob emigrated to Argentina. Shlomo, Freda, Hana and Lotke stayed in Svencionys.
Hana had five children: Motke, Nachum, Sarah, Baty and Chavah. When the Nazis built a ghetto in the town, Motke ran away to the Vilna ghetto where he would be able to bring his mother and sisters before the Svencionys ghetto was liquidated. Nachum was killed in the ghetto at the age of 17. Shlomo had by then passed away.
But the reprieve in Vilna was short lived. From 1941-1944, tens of thousands of Jews from Vilnius were sent to Ponar to be killed. Their bodies were dumped into burial pits. An estimated 100,000 people, including 70,000 Jews, died at Ponar.
In 1943 when it became clear the Soviets were going to take over Lithuania, the Nazis began to cover up the evidence of the mass killings. They forced a group of about 80 Jews to exhume the bodies, burn them and bury the ashes. This group of prisoners is known to historians as the Burning Brigade.
Motke was one of those men.
Realizing their eventual fate, the brigade planned a daring escape . Then spent 76 days digging a secret tunnel using spoons found on the dead. On April 15, 1944, the last night of Passover, when they knew the night would be darkest, the group crawled through the two-foot-square tunnel and through to the forest. The guards heard them. Only 12 survived and managed to escape, among them, Motke.
The discovery of the Ponar tunnel was the subject of a recent PBS documentary. Smithsonian Magazine also published an extensive account of the discovery of the tunnel and the remarkable escape.
Motke eventually settled in Israel where his daughter and grandchildren live."
———-
The history of Jews in Lithuania dates back to the 14th century when Lithuanian Grand Dukes enticed Jews to move to Lithuania from the nomadic lands of central Europe. The Jewish people were important to Lithuania, bringing international as well as local commerce to the city.
During the 1600s the capital Lithuanian city Vilnius was known as the "Jerusalem of Lithuania". Most Jews settled here, but they also settled in smaller communities around the city. More than 160,000 Jews resided in Lithuania, with about 60,000 Jews living in Vilnius alone. The Jewish population was alive and vibrant with many newspapers, theaters, and shops.
Vilna was known as being a center for higher learning, with at least 250 recorded shuls in the city according to the European Jewish Congress. It is also where notable Talmudic commentator Rabbi Elijah ben Solomon, also known as Vilna Goah, lived. One of his students, Rabbi Chaim Volozhiner, is known for inspiring the modern day yeshiva movement.
During World War II, the Jews of Vilnius were rounded up and sent to the Ponari woods. It was here in the woods where the Nazi's executed thousands of Jews. (Read more about this below.)
After the war ended, 95% of the Jewish population in Lithuania had been killed. The Jewish population that is alive today almost comes close to the last 5% that survived the war. Under Soviet rule, Jews in Lithuania had the least amount of regulations when it came to religion. Some religious expression was allowed and tolerated. Whereas in Soviet Russia and Ukraine, all forms of religion were outlawed and atheism was promoted. Once the country's independence was gained, all restrictions against Jews were dropped. According to the World Jewish Congress, there are about 5,000 surviving Jews in Lithuania today.
————-
For traditional Lithuanian cuisine, check out or recipes for Bubbie's Stuffed Cabbage and Chopped Liver.
————-
Sources:
http://www.worldjewishcongress.org/en/about/communities/LT
http://www.jewishvirtuallibrary.org/jsource/vjw/Vilnius.html
http://www.eurojewcong.org/communities/lithuania.html
http://www.pbs.org/wgbh/nova/next/military/vilnius-tunnel/
More about Motel Zeidel (Katz family) and the tunnel: http://www.smithsonianmag.com/history/holocaust-great-escape-180962120/#DFXGFfO5hoRu1oJ3.99
A short video interview with Motel Zeidel: https://www.youtube.com/watch?v=5D_qom1YIyA&t=12s
———-
*I would like to thank Paul Katz and Rebecca Weisman for their personal narrative on their family history in Lithuania.
Peak Population of Jews in Lithuania: 160,000 in 1939
Population of Jews in Lithuania Today: 3,000 in 2016
Population of Lithuanian Jews in Israel: 8,000