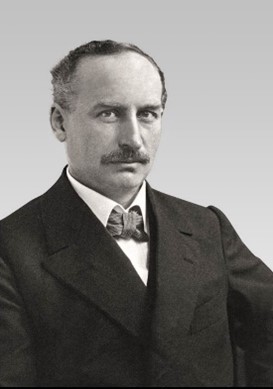 Ernst Leitz II was born March 1st, 1871, in Wetzlar, Germany. He was the son of Ernst Leitz, the owner of the Leitz company which manufactured and sold optics technology that was one of the world's largest makers of microscopes. Ernst Leitz II become a partial shareholder in his father's company in 1906. In 1920, he became the sole shareholder after his father's death.
Leitz had a strong entrepreneurial spirit and was unwilling to simply ride his father's coattails. In the 1920s he started to advocate for the production of a new type of camera that used 35mm film. Despite many people telling him such an endeavor would be foolish, he pushed forward. He oversaw the creation of the Leica 35mm camera. The new cameras proved to be incredibly popular and quickly became the company's primary source of income and revolutionized the industry.
More impressive than his business legacy, was the heroic actions Leitz spearheaded during the Holocaust. Ernst was always known as being kind and compassionate to his employees, many of whom were Jewish. When Hitler rose to power, many of his Jewish workers, friends, and associates came to Leitz for help. These pleas did not fall on deaf ears. Ernst Leitz II and his daughter Elsie Kuehn-Leitz established what was known as the Leica Freedom Trail.
Ernst's plan was simple, he would say that Jews who wanted to leave Germany were employees of the Leitz company. Then he would have those "employees" assigned to Leitz offices around the world. Most of the Jewish refugees were brought to the United States. Once they arrived, the Leitz company would assist the refugees with finding jobs and housing. All refugees were given a Leica camera as well. Those that had a particularly hard time situating themselves were given a stipend to help them. Many of the Jewish refugees would go on to work for the Leitz company in a variety of roles and skilled positions.
The Leica Freedom Trail picked up steam after Kristallnacht in November of 1938. Every few weeks a new group of Jewish refugees would be brought to New York City. This continued until the German border closed in September of 1939.
Ernst was able to avoid much government scrutiny because the Leitz company provided money, prestige, and military equipment to Germany . That said, there were a few incidents in which the efforts of the Leica Freedom Trail caused those running it trouble. A top Leitz company executive named Alfred Turk was temporally jailed for helping Jews. Elsie Kuehn-Leitz herself was imprisoned by the Gestapo for helping Jews cross the border, though she was eventually released.
Ernst Leitz II was an incredibly humble man, who refused to publicize his heroic undertakings. He insisted that the good deeds his family did spoke for themselves. This led to the story of the Leica Freedom Trail being a relatively unshared one. It wasn't until the last of the Leitz family died that their story began getting more mainstream recognition.
Ernst Leitz II died on June 15th, 1956. In 2007, he was posthumously given the Anti-Defamation League's Courage to Care Award for all his work rescuing Jews under Nazi persecution.
You can read more about Ernst Leitz II's extraordinary life here.