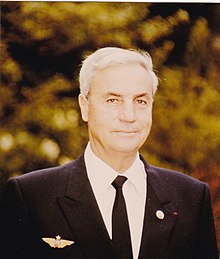 Michel Bacos was born on May 3rd, 1924 in Port Said Egypt.
When he was 17 he joined Charles De Gaulle's Free French Forces, the government in exile of occupied France during World War II. As part of his service to the French military he was sent to the Naval Air Station Corpus Christi in Texas, there he was trained to be a plane pilot.
In 1955 he become a pilot for the commercial company Air France. He met his wife at Air France, she was working there as a stewardess.
On June 27th, 1976 Bacos was the pilot of Air France Flight 139. The flight was meant to go from Tel Aviv to Paris with a stop in Athens. The flight safely made it to Athens, but just minutes after taking off from Athens a group of 4 armed terrorists from the Popular Front for the Liberation of Palestine hijacked the plane. The terrorists held Bacos at gun point and forced him to land in Benghazi, Libya then to fly to Uganda. There, the terrorists separated the Jewish and Israeli hostages from the rest. They said that the crew and the non-Jewish passengers were free to fly back to Paris. Captain Bacos said that he and his crew would not leave until everyone was free. Bacos and his crew remained hostages with the Jewish passengers until July 4th, 1976 when Israeli commandos freed the hostages in Operation Entebbe.
For his bravery during the hijacking, Bacos was awarded France's highest decoration, the National Order of the Legion of honor in 1976. He was also given a medal for heroism by the Israeli government.
Bacos retired to Nice in 1982, where he spent the rest of his days living with his wife. He had 3 children and 7 grandchildren. He continued to receive honors for his bravery. In 2008 B'nai B'rith International gave him a "Golden Menorah" award and in 2016 the American Jewish Congress gave him the Moral Courage award.
Bacos died on March 26th, 2019. In honor of his courage and willingness to stand for the Jewish people Hatikvah (the Israeli National Anthem) was played at his funeral.
You can read more about Michel Bacos's extraordinary life here.