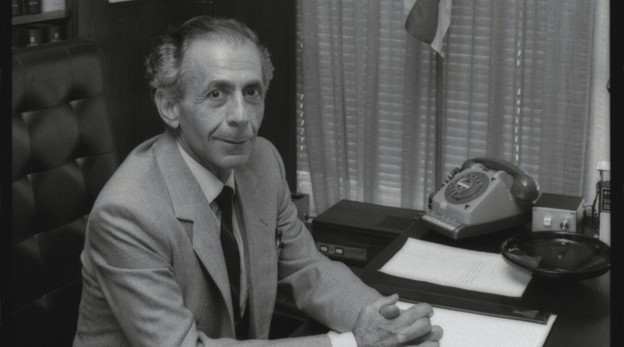 Shlomo Hillel was born on Aril 23rd 1923 in Baghdad, Iraq. His parents were Mizrahi Jews and he was the youngest of 11 children. In 1933, Iraqi soldiers massacred over 500 Christians in a nearby city. Shlomo's father was fearful that the Jews would be next, so he moved the family to Tel Aviv, which was then part of Mandate Palestine.
Shlomo attended Hebrew University of Jerusalem where he studied economics and political science. From there he studied agriculture at several kibbutzs and then assisted the Hebrew Scouts in setting up their own kibbutz.
Shlomo joined the Haganah, a Jewish paramilitary organization in Mandate Palestine that would go on to become the bulk of the initial Israel Defense Force. He worked at a munitions factory that was cleverly camouflaged as a laundromat.
In 1946 Shlomo took part in Operation Michaelberg, an effort to bring Jews living into Iraq into modern day Israel. Shlomo lived undercover in Iraq for a year, spreading Zionist philosophy and laying the groundwork to safely transfer Jews out of the country. He then spearheaded the hiring of two pilots to smuggle a large number of Jews into Israel.
In 1948 Shlomo went to Iran disguised as a Frenchman. There he worked with a former French priest named Alexander Glasberg to get Jews from Europe into Israel. They would use bribes and connections to get Jews visas from France, then smuggle them past the Iranian border. They were able to shepherd over 10,000 Jews into Israel.
In 1950 the Iraqi government passed a law that allowed Jews to migrate out of the country during a one-year period. Shlomo traveled back to Iraq under the guise of a British man working for an American charter company. He was able to meet with the Iraqi prime minister and secure the exclusive rights to fly Jews out of Iraq. He used these rights to bring over 124,000 Jews from Iraq to Israel in what came to be known as Operation Ezra and Nehemiah.
In 1952 Shlomo married Temima Rosner. Together they had two children, one son and one daughter. That same year he ran for a seat on the second Knesset. He did not win, but he got a seat anyways as a replacement for a victorious candidate that died. He was re-elected to his position in 1955 but resigned in 1959.
After his time in the Knesset, Shlomo joined the foreign service where he served in a variety of diplomatic posts throughout the 1960s. These posts included being ambassador to a variety of African nations, serving as part of the Israeli delegation to the UN, and a stint as the Deputy Director of the Ministry of Foreign Affairs.
In 1969 Shlomo ran for the Knesset again and won a seat. From 1969 to 1977 he served as the Minister of Police and from 1974 to 1977 he was the Interior Minister. As part of his role as Interior Minister he oversaw Aliyah, the right for Jews around the world to immigrate to Israel. In 1977 he changed Israel's immigration policy to allow Jews in Ethiopia to make Aliyah. This resulted in nearly 120,000 Ethiopian Jews moving to Israel. One of the immigrates that came to Israel thanks to Shlomo's new policy was a young woman who would go on to marry his son.
In 1984 he was elected to serve as the Speaker for the Eleventh Knesset.  He would remain in the Knesset until he was defeated in an election in 1992. In 1988 he was awarded the coveted Israel Prize in honor of his contributions to the State of Israel and its people.
Shlomo Hillel died on February 8th, 2021.
You can read more about Shlomo Hillel's extraordinary life here.