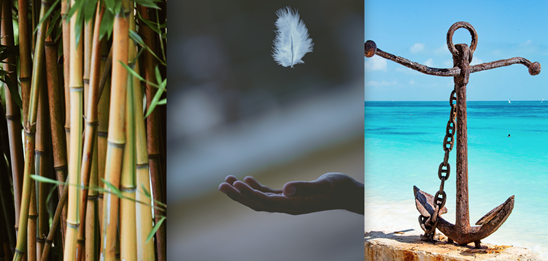 As a parent, what really matters?
One summer, I was with a friend who had just become a father. I texted my daughter: "My friend just became a first-time father and now has a one-month old daughter. What advice would you give him?"
Within four minutes, my daughter texted me back.
"Make fun shaped pancakes. Baby jogger. Red light / green light learn how to walk down the street."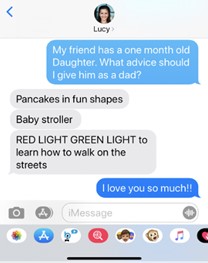 I was filled with joy when I read my daughter's text, because it perfectly summed up my personal philosophy of being a father. In general, I always tell parents they don't have to spend 100% of their time with their children, but, when they are with them, to be 100% available. Now, I want to echo those philosophies to you. They go as follows:
Make Fun Shaped Pancakes

Make it magical, not clinical.

Baby Jogger
Red Light / Green Light – learn how to walk down the street
Don't bend like bamboo, or else you'll break.
Make Fun Shaped Pancakes / Make it magical, not clinical
My daughter, Lucy, suggested my friend make "fun shaped pancakes." When she was growing up, I never simply made regular circular pancakes for my kids. Instead, I'd fill an empty ketchup bottle with pancake batter, squeeze the bottle onto the pan, and "write" the letters of their names or create fun shapes in the form of pancakes. This little bit of extra effort I put into an otherwise mundane activity really did not take much more time, but certainly made breakfast a lot more fun!
When my kids were young, I always looked for opportunities to turn an ordinary thing into an extraordinary thing. In other words, I looked for a way to make life magical, rather than clinical. One of my favorite activities during which to apply this philosophy was during meal-making. In addition to my fun pancakes, I'd always cut hot dogs in different shapes and decorate the plate in ketchup-art. Furthermore, I always involved my kids while I was cooking and looked for roles that would be safe, appropriate, and accessible for kids. For example, I asked them to pour pre-measured ingredients into a mixing bowl. By doing this, I gave them personal agency and responsibility, which made them feel respected. Additionally, by showing them how to make mundane activities into fun ones, I illustrated to them the importance of making every moment a little extra magical.
Breaking Matzo is based on making Jewish Home Holidays Magical, Meaningful, and Memorable so that people of all ages and backgrounds can come together in celebration. In particular, I have always tried to make the Jewish holidays accessible, exciting, and engaging for young children so they can have a role in traditions from a young age.
Baby Jogger / Float like a feather
Lucy also recommended my friend take his children out in a "baby jogger." When she was younger, and the weather permitted it, I would take Lucy and Caroline outside in a baby jogger for a weekend adventure, getting my exercise in while they enjoyed the sights of the park. I had no schedule or route; I simply allowed them to direct me. We would run along the Charles River, explore the playground, sing their favorite songs, and their favorite snacks: goldfish, Oreos, and fruit. We always had a great time.
I call this child-led time "floating like a feather." In this sense, I recommend acting like a feather and going wherever the wind blows you. Be open to every possibility. Life can be full of strict scheduling and rigid plans, so I tried to make sure my playtime with my children was easy going and free flowing.
Red Light , Green Light  – Learn how to walk down the street / Be like an anchor
Like every parent, I was always concerned with the safety of my children – especially when they were younger and didn't realize the risks of everyday activities, like running into traffic. To prevent them from doing this, I utilized the "red light, green light" game. From a young age, my kids knew that when I said "red light," they had to immediately stop.  Our home was four blocks from the neighborhood playground, so we always use this safety protocol.  This way, when we were walking through the busy streets of Boston, I knew I had some control over their movements. Then, when I said "green light," they knew they were safe to go ahead. To this day, my daughters will instantly stop upon hearing me say "red light." In this way, acting as an anchor kept my kids safe throughout their childhood.
Don't bend like bamboo, or else you'll break.
Bamboo is an incredibly flexible plant. As the wind bends it back and forth, it refuses to break. This ability to adapt to any circumstance, no matter how tumultuous, is an awesome symbol of resilience. The bamboo plant can literally bounce back from anything. People, however, are not bamboo; and in parenting, while a little bending is warranted, too much can make you break.
As a parent, especially as your children get older, it can be important to explain the reasoning behind your rules and decisions. But, if you "break" every time your child asks you to change your stance, they won't respect your judgement. If you vacillate in every request and allow every rule to become a negotiation, you'll tire yourself out and break.
I wanted to take the opportunity of this blog to share some learnings I've obtained from being a father to my two daughters, inspired by a simple text from my daughter Lucy. I hope these mantras will make your parenting experience a little easier and a little more rewarding.
Biblical Connections:
Being a good parent means having faith in God and faith in your children. The following are some examples from Hannah and Abraham.
 "And she made this vow: "O LORD of Hosts, if You will look upon the suffering of Your maidservant and will remember me and not forget Your maidservant, and if You will grant Your maidservant a male child, I will dedicate him to the LORD for all the days of his life; and no razor shall ever touch his head'" (Samuel 1:11)
Here, we see how Hannah is willing to make any promise to G-d in order to be blessed with a child. Her sacrifice illustrates the immense, innate value of parenthood and the awesome responsibility it entails.